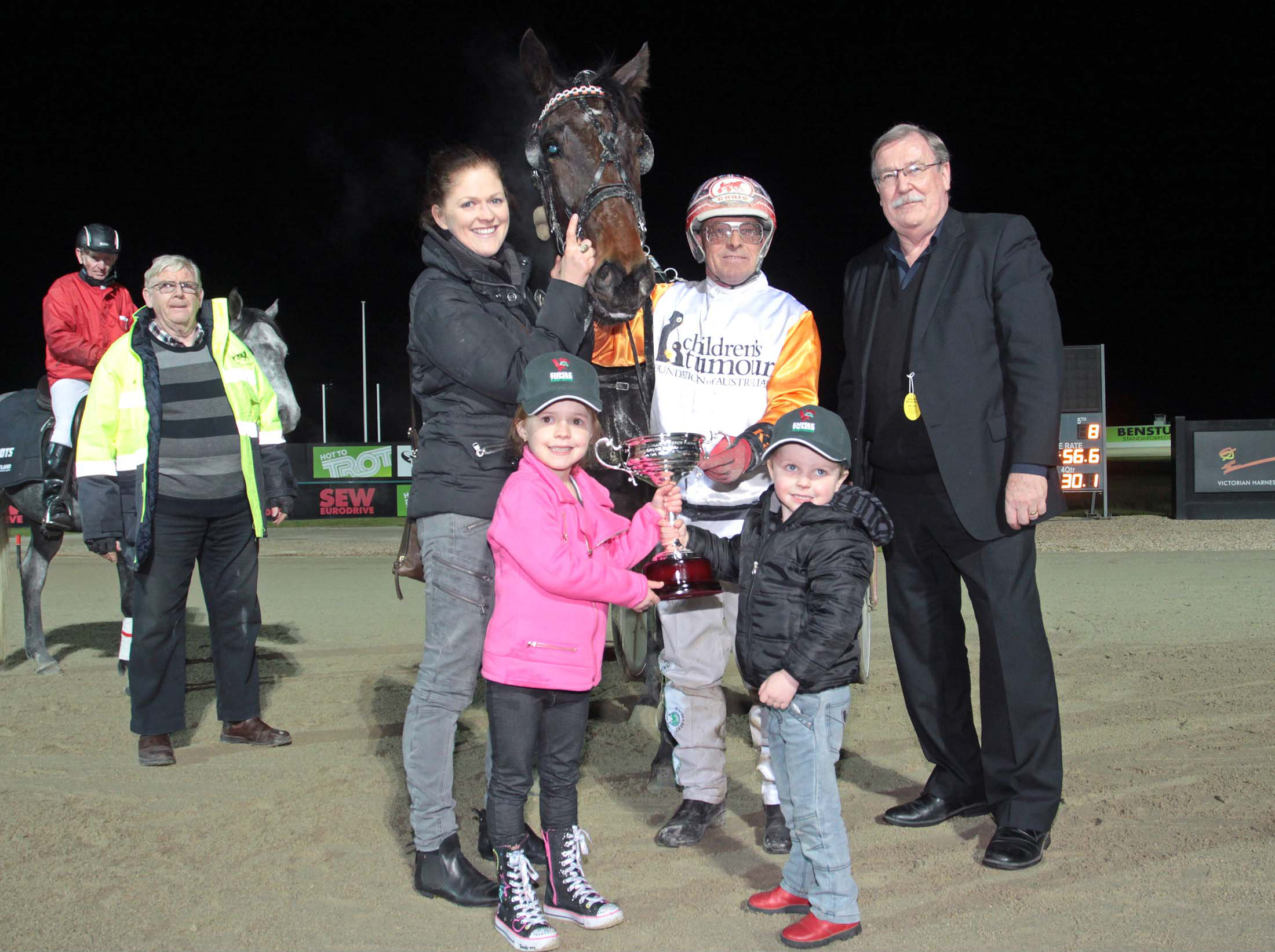 Rattling tins will be warmly welcomed this Good Friday by Victorian harness racing's Alford family, with mum Alison heaping praise on the "brilliant" beneficiary, the Royal Children's Hospital.
Speaking to Paul Campbell for the latest Tooth Be Told podcast, Alison said she and husband Chris "wouldn't want to imagine life without" the Melbourne hospital, which benefits greatly from its annual Good Friday Appeal fundraiser.
"We are super privileged to have (the hospital), the resources, the doctors, the equipment – I would hate to think of living with (daughter) Katie's diagnosis without having the Royal Children's Hospital," Alford said.
Katie was diagnosed with neurofibromatosis (NF), which Alison said meant she was missing a chromosome that helped the body to fight off tumours, while Katie's brother Sam was found to have a heart valve fault that also required specialist attention.
"We've spent more time at the Royal Children's Hospital than I would have ever hoped we would," Alison said.
Both Katie and Sam have been regulars in Tabcorp Park's sulky challenge fundraiser for the hospital, just part of the family's generosity to give back to causes dear to them.
Central to the latter has been Spinners Boy, Alison's gelding who's had 37 starts for nine victories.
"His win when he won the Platinum Home Grown series was definitely my favourite, without taking away from the other wins we've had," she said.
"He was and is a super special horse to us. He was bred when Katie was diagnosed with NF. I had an owner at the time send me an email and say I really want to breed Katie a horse.
"At the time I thought that is the last thing I need, another horse, but I said 'yeah, sure'. And Ray Chaplin is the owner and he said 'I don't care if this horse never races, I just want Katie to have a friend'.
"So sure enough he bred him and (Spinners Boy) came here at a couple of days old and he knew his job in the world was to be her friend. From a foal she could do anything with him, we could do nothing with him.
"Right up until she started prep and that day he broke his rug and we had to wait till she come home from school to catch him so we could fix the rug. He's a big boy and he eats puddy out of her hand. It's a bond you have to see to be able to appreciate it."
The gelding's success has been shared, with Katie donating $250 to the Children's Tumour Foundation of Australia every time he wins.
Latest at thetrots.com.au
► Greg Sugars says Vic Oaks hopefuls will have to be at top of game to qualify
► Road trip to Mildura 'ends in a party' for Brad Stevens
► San Carlo's dominant rails run to capture Mildura crown
► "Electrifying" cup marks Craig Rail's final call for his Mildura "family"
Watch tonight's Victorian racing live and free on TrotsVision
CLICK BELOW TO HEAR ALISON ALFORD IN THE LATEST EDITION OF TOOTH BE TOLD