More greats of the trots will join Victoria's Hall Of Fame at Bendigo next Friday, a star-studded honour roll that already includes trotting great Grand Voyage, a hero of Belmont Stud.
The latter was one of two important pioneering trotting stud farms that operated in the early 1900s in Huntly, 10 kilometres north of Bendigo. Earlier this month we shared the story of Adelaide Hill (click here) and today we celebrate Belmont Stud.
CLICK TO BOOK TICKETS TO THE VICTORIAN HARNESS RACING HALL OF FAME NIGHT
It was in 1908 that George Greaves, licensee of the Albion Hotel in View St, Bendigo, established Belmont Stud Farm at Mandurang, 10 kilometres south-east side of Bendigo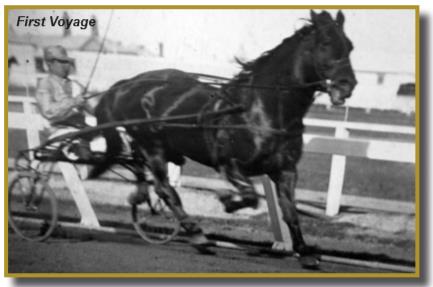 He never could have dreamt how close he would come to achieving his ambition of breeding champion trotters. When the Tye brothers, owners of the Allendale Stock Farm at Mentone disposed of stock in 1911, Greaves was quick to buy the stallion First Voyage (1908, by Bon Voyage USA from Elsie Downs USA) for 235 guineas.

He acquired an additional two stallions, the imported Billy Mac USA and the New Zealand pacer Dan Patch (not to be confused with the US Legend of the same name).
The Bendigo Independent newspaper reported on an open house at the new stud.
BELMONT STUD FARM - A PICNIC GATHERING
An open house, and a general invitation from the proprietors of the Belmont Stud Farm, drew some hundreds of people along the road to Mandurang yesterday afternoon. The afternoon was one of a glorious, soft sunshine, and by 2 o'clock the buggies and traps were streaming through Spring Gully on the way to see the trotters. The news that the brilliant horses of the stud farm - Dan Patch, Billy Mac and First Voyage - would show their best paces on the speedway on the farm brought out all who loved horses who could get away.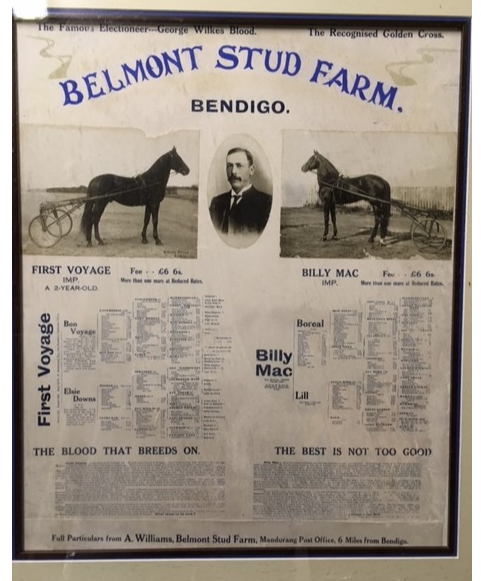 Picture: Large framed stud advertisement for Belmont Stud from the collection of the Bendigo Harness Racing Club.
Greave also purchased three imported broodmares including Blonde Grattan (1901, Grattan – Blonde Beauty). Blonde Grattan was a stud gem. Her first 10 foals all won races.
In 1913, Blonde Grattan dropped a black colt foal to First Voyage. It was subsequently named Bonnie Voyage.
Less than two years later, a hapless George Greaves disposed of the entire Belmont operation.
Again the newspapers of the day reported:
BELMONT STUD FARM CLEARING SALE
Cordner, Reynell and Co., had a very successful clearing sale at the Belmont Stud Farm on Saturday (15th March 1913), when the well-known stud horses were offered for sale. First Voyage and Dan Patch each realised 550 guineas, and were purchased by Mr. A. Williams, on behalf of a buyer who intends establishing a stud farm to the north of Bendigo. Billy Mac fell to Mr. F. Nelson at 95 guineas, while Blonde Grattan and Crucible S were bought by Mr. Williams for 95 and 60 guineas respectively Among other sales were: a yearling, Abbey Belmont, by Abbey Bells from Blonde Grattan realised 50 guineas, Black Jack (yearling, Abbey Bells - Myrtle Dean) realised 42 guineas, a grey Wilie Whips mare (stinted to First Voyage) realised 25 guineas. A weanling (First Voyage - Blonde Grattan), the yet to be named Grand Voyage, realised 30 guineas.
The Belmont Stud business was acquired by local businessman, P.H. (Harry) Busst and functioned as a breeding and racing stable. Busst took as his training partner the outstanding horseman Paddy Glasheen, formerly of Charlton.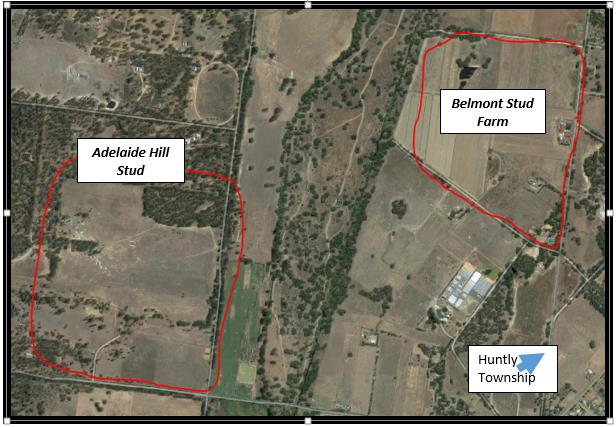 The partners relocated the stud from Mandurang to Huntly on the other side of Bendigo, just off the Echuca Rd. The new location was on the flats of the Bendigo Creek, just a few hundred metres as the crow flies from Robert Matchett's Adelaide Hill stud.
The Bendigo Advertiser reported:
BELMONT STUD FARM - WELL ESTABLISHED AT HUNTLY
Until a few months ago the Belmont Stud Farm of trotters was located at Mandurang, where everything was convenient, but when the lease of the premises expired the proprietors very wisely removed to Huntly. The farm is now on Cr. P. H Busst's land in Huntly, an ideal spot for a stud farm with scores of advantages over the Mandurang site. It is only a quarter of a mile from the main Echuca road and very handy to the Huntiy railway station, being connected directly by a very good road. One hundred acres of splendid grazing land are well subdivided by strong fences at the Huntly site, while a little further north are 250 acres of first class land. This is an ideal spot for mares and foals and is close to the Bagshot railway station. The proprietors undertake to meet all mares visiting the stallions at the station, and will then take every possible care of them, but no responsibility.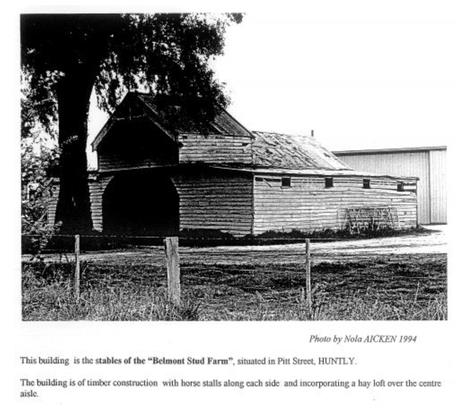 Picture: The now demolished stables of the Belmont Stud Farm, Pitt Street Huntly.
Grand Voyage's reputation preceded him to the racetrack, and when he was produced at the Richmond Racecourse in 1916 for the main Victorian classic for young trotters, the Futurity Stakes, all of his opposition had pulled out of the race except one rival, whom he beat at 20-1 on in the first heat and again disposed of easily in the second heat, in which there was no betting.
The potential of Grand Voyage (originally named Bonnie Voyage) was recognised by all, including the handicapper who saw to it that the black champion won no race easily. After his Futurity win, Grand Voyage was spelled and did a light season of stud duty.
At his second start, in January 1917, the three-year-old won from 60 yards behind against older horses at the Richmond track in a time barely slower than in which the Richmond Cup, run the same day, was decided. In subsequent starts he raced from 85 and 115 yards behind, the latter occasion producing another fantastic winning performance.
As a rising five-year-old Grand Voyage defeated the hoppled pacers for the first time, subsequently a common sight. In June 1919 he won twice on the day at Epping (Harold Park) in Sydney, each time setting a record, then at the Melbourne Showgrounds where he set a mile record of 2:16 3/5 after a tremendous battle from even marks with the very good pacer Sarilla, the winner of 23 races at Richmond. In 1921, back in Sydney, Grand Voyage reduced the winning record at Epping to 2:13.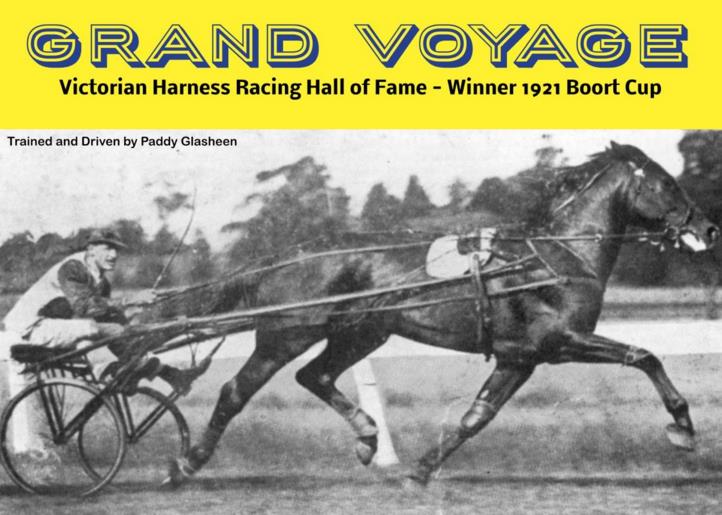 Picture: The champion trotter Grand Voyage won the first Boort Pacing Cup in 1921,starting from 280 yards behind.
1921 BOORT CUP – 50 pounds – One & half miles: GRAND VOYAGE**, 280yds (P Glasheen); Margins: 6 lgths X 10 lgths; Time: 3m 54s.
He was then taken to New Zealand. His victory in the 1922 Otahuhu Cup at Alexandra Park in Auckland worth 1000 Sovereigns (then $2000) against the best New Zealand pacers from 48 yards in a race record 4:31 3/5 was considered by Glasheen his most outstanding effort.
On return from New Zealand, he won further races including the original Bendigo Cup at the Bendigo Jockey Club track at Epsom in 1924.
For 10 years Glasheen drove the greatest trotter since Fritz to race in Australia. Grand Voyage went on to win 37 races over all distances on both sides of the Tasman. He was a brilliant beginner capable of beating the best pacers of his era. Indeed, some experienced observers still rate him as the finest Australian trotter of all time, rating him at least an equal of both Fritz and Maoris Idol.
The End of an Era (The Herald, 30 Jan, 1924)

Under instructions from Messrs H. Busst and P. Glasheen, proprietors, Campbell and Sons, auctioneers, will sell by auction on Tuesday, March 11,1924 at the City Horse Bazaar, the whole of the trotting stock, sulkies, and gear of the famous Belmont Stud Farm, Huntly, Victoria. In the stock to be offered are some of the best bred trotters in the world, including First Voyage (imp.), Grand Voyage (late Bonnie Voyage), Grattan's Voyage and Blonde Grattan. Queen Pirate, who was imported from New Zealand, and recently won at Kyneton, will also be put under the hammer, as will Peter Vole, a Richmond winner, and the famous old performer, Derwent Jack.
Death of Paddy Glasheen (Narrandera Argus, November 5, 1946)
Considered by many to be Australia's leading trotting driver, Paddy Glasheen died suddenly at the residence of his son at Young, NSW. Aged 75 at his death he was in good spirits right up to his sudden death and at the time had a team of horses in training.

Paddy Glasheen was survived by his brother Ted of Elmore, Jim, who was attached to J. E. Smedley's stables at Caulfield; and a sister (Mrs. J. G. F. Nolen) at Narrandera.
Paddy had three sons: Jim (Young. NSW.), Ted (Charlton), who at one time played football
for Golden Square, and John (East Preston).
John (known as Jack) and his wife ran a "corner store" opposite the Preston Primary School. Jack trained at Gower Park in Preston and raced at the Royal Showgrounds as a hobby. He had the good pacer Major Miracle. His son is the well known 'Pacing Priest', Father Brian Glasheen.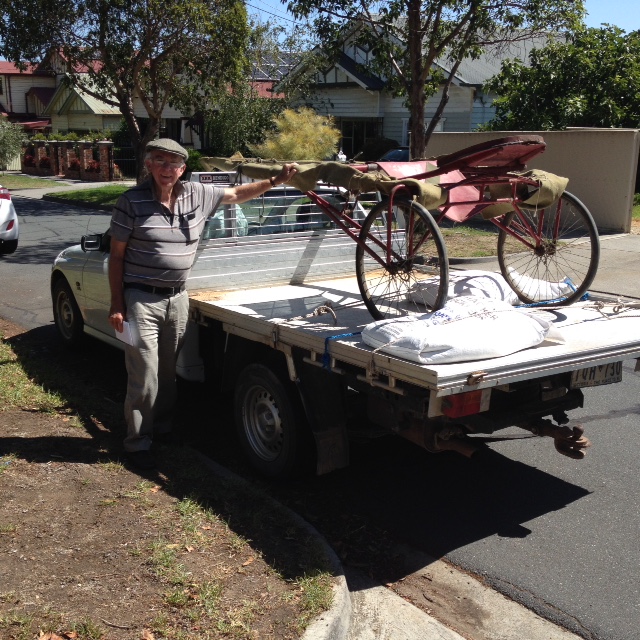 Picture: The 'Pacing Priest' Father Brian Glasheen with the sulky used by his grandfather, Paddy Glasheen, on legendary trotter Grand Voyage.
Death of P H (Harry) Busst (Bendigo Advertiser, January 1933)
In 1914 Harry Busst established the Belmont Stud Farm at Huntly, the home of some of the finest light horses ever seen in the state. Of the host of horses he bred and raced none brought him greater fame than the magnificent trotter, Grand Voyage, who was foaled in 1913. Mr Busst owned the sire, First Voyage, and dam Blonde Grattan, of Grand Voyage, who for 10 years raced with success in Victoria, New South Wales and New Zealand, and was a public idol wherever he appeared. Queen Pirate, Grattans Voyage, First Trip, Belmont Chimes, Stormy Voyage, Tradesman and many other trotters were bred or raced by Mr Busst.
He was:
• President of the Victorian Owners and Breeders Association
• A member of the Government Licensing Board
• A member of the Trotting Appeal Board
• Member of the Bendigo Trotting Club
• A life member of the Royal Agricultural Society of Victoria, and a member of the council of the Bendigo Agricultural Society
For 14 years he was a councillor of the Shire of Huntly and was on three occasions its president. He relinquished the Belmont Stud Farm at Huntly six or seven years ago.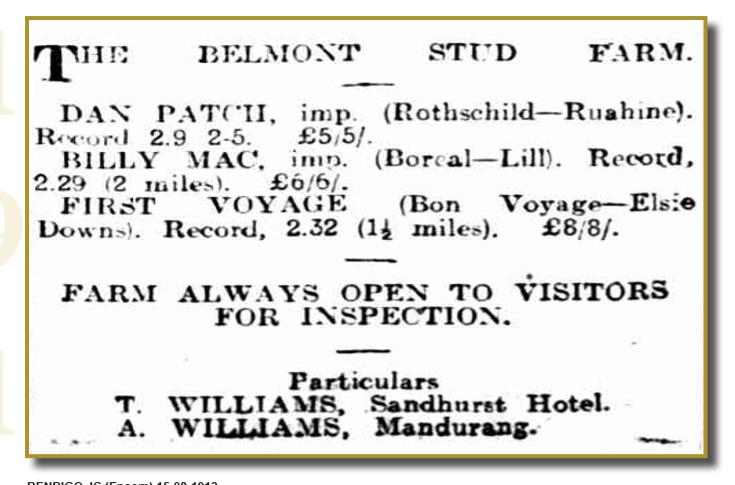 Did You Know?
The Belmont Stud stood three stallions
1. Dan Patch NZ (P.TT. 2.9.4), 1902 by Rothschild from Ruahine
Wins included NZ Great Northern Hcp, NZ Stockburn Hcp, NZ Christchurch Hcp.
He stood initially at Allendale Stock Farm at Mentone in 1907, 1908 and also in Brisbane 1909.
Sire of 25, three trotters 22 pacers, including Belle Patch 2:13.0, Bronze Patch 2:15.4 and Ivy Patch 2:17.0.
Daughters of Dan Patch, mainly through the Classic Families A12 Fair Nell family are ancestors of
Dons Ayr 1945 - 2:07.8, Teeny Rena 1962 - 2:04.3, Jikk Adios 1976 - 1:59.9 $251,740, Quantum Lobell 1991 - 1:53.1 $442,592, Elite Rena 1992 - 1:59.8 $152,847 and the three times Inter Dominion champion Our Sir Vancelot 1990 - 1:55.4 $2,197,990.
2. Billy Mac (IMP USA) (P2.29-Aust), 1904 by Boreal from Lilt by Eagle Bird
Imported as a two-year-old in 1910 by Allendale Stock Farm, he stood at Belmont Stud from 1915-1917.
Wins included 1912 Carisbrook Turf Club Trot, 1914 Richmond Flying and 1914 Ballarat Trotting Club Flying.
Sire of 11, two trotters and nine pacers, inclluding Willie Mac 2.19, Rowdy Mac 2.23 and Royal Mac.
One of his daughters is the ancestor of Gambling Raid (2.09.6), winner of a heat of the 1959 Inter Dominion.
3. First Voyage (i.i.u.)(tr,TT2.18.4), 1908, by Bon Voyage from Elsie Downs (imp)
Imported in uterus with his dam Elsie Downs by Allendale Stock Farm.
Stood at Belmont Stud 1916-1923, then Melton 1924 until his death in 1935.
Wins included 1914 Richmond Handicap, 1914 Ballarat TC Open, 1914 2 Richmond Cups, 1917 a Boort TC Flying.
Sire of 136, 78 trotters, 58 pacers including Grand Voyage, Huon Voyage, First Cast, Surprise Journey.
First Australian stallion to sire 100 trotting winners.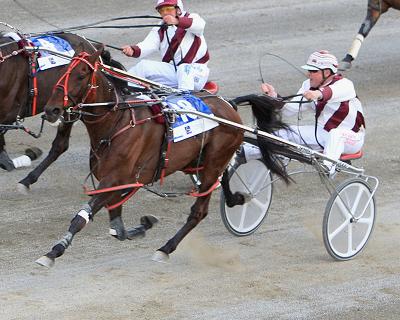 First Voyage's daughters are ancestors of an impressive array of high class pacers and trotters:
Bingen Redmond, Harwood Brigade, Prince Mimosa, Nancy Irene, Zig Zag, Abidair, Did It Alone, Roman Chapel, Cooma Maree, Just Money, Illawong Ian, Illawong Byron, My Lesson, Crescent Glory and the $2 million earner Flashing Red.
Picture: Descendent of 1914 First Voyage mare Olive Voyage Dual NZ Cup and $2,000,502 earner Flashing Red.
Some of the Belmont Stud partnership race horses:
The Belmont Stud partnership of Harry Busst and Paddy Glasheen raced a long list of successful trotters and pacers.
Among them, with some of their wins, were:
Queen Pirate NZ (Normintson - Wild Pirate), whose wins included 1920 NZ Thames Pacing Cup, 1920 Northland Cup, 1924 Bendigo Cup and 1926 Richmond Flying.
First Trip (First Voyage – Crucible S), who won the 1915 Victorian Trotters Sires Produce, 1916 Victorian Trotters Derby and 1921 Tasmanian Northall Park Cup.
Belmont Chimes by Abbey Bells from Blonde Grattan was the first horse bred at Belmont. On July 9 1915 at Richmond, Melbourne, in the Sires Produce Stakes of 250 Sovereigns, Belmont Chimes succeeded in winning two straight heats. In the second heat Belmont Chimes gave a brilliant exhibition of two-year-old trotting and succeeded in establishing a new record of 2.40. Among Belmont Chimes other wins were the 1915 Victorian Trotters Derby and 1920 NZ New Brighton Cup.
Stormy Voyage (First Voyage-Nellie), who won 921 and 1922, three MTC Trotters Handicaps, 1922, two Richmond Handicaps and 1923 NZ Alexandra Hcp.
Grand Voyage (First Voyage-Blonde Grattan), whose 37 wins include the 1916 Vic Sires Produce, 1917 MTC Trotters Hcp, 1918 two Richmond Hcps, 1919 Boort Flying, 1920 two Richmond Flyings, 1921 Boort Cup, 1921 Epping (NSW) Hcp, Epping NSWTC Flying, 1922 NZ Otahuhu Cup, 1924 Bendigo Cup, 1925 Bendigo JC Open, 1926 Elmore TC Open. VHRMA Hall of Fame.
Fair Voyage (First Voyage-Blonde Grattan), who won the 1917 Ballarat TC Open.
Constellation (All Style-Quality), who won the 1925 Castlemaine TC Cup (at Campbell's Creek).
Derwent Jack (Grattan Bells – Kestrel), who won the 1918 Richmond Hcp, Ballarat TC Open, Ascot Cup and 1919 Richmond Hcp.