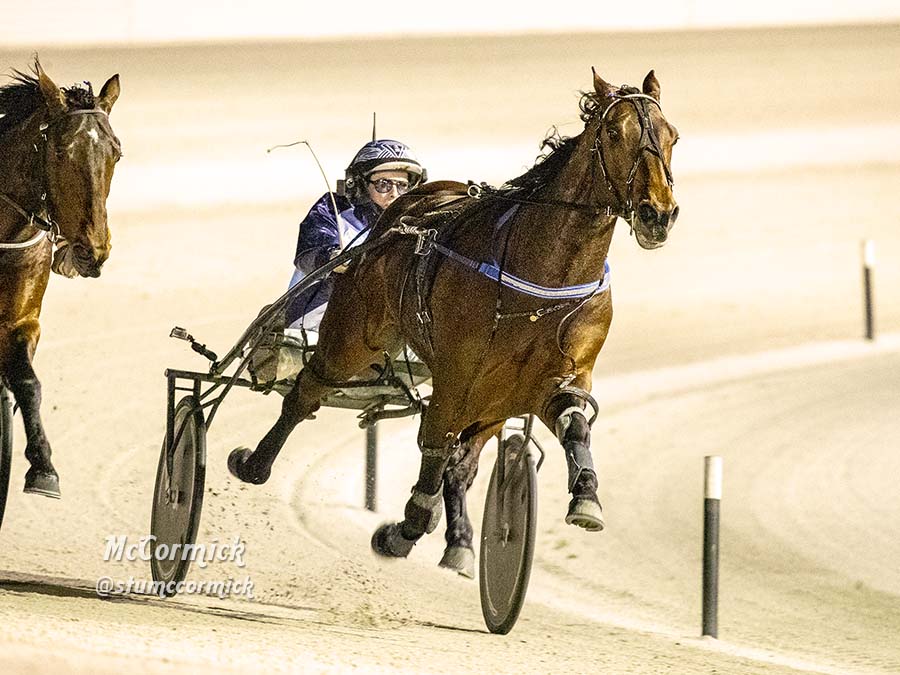 For those playing Ride High bingo on Saturday night the numbers are in and the record books look set to be rewritten.
Clayton Tonkin's star pacer is tipped to stamp himself all over the Dalvui Raceway record books in Saturday's Christians Bus Gammalite Pace, with the short-course records looking well within his reach.
A short price to add an 11th straight win, a feat achieved by only 49 other horses since the turn of the millennium, Ride High has left a trail of destruction this campaign, rewriting the record books with blistering mile rates, last halves and quarters.
Having won all five starts this campaign, Ride High set the quickest last half at Melton (52.7 second) first up, when he lowered the mark by 0.8 of a second. He followed up with a 1:50.8 mile rate in his next start, the third quickest ever produced at Melton, and then set new last half (53.4 seconds) and third quarter (26.5 second) records at Ballarat.
Then came his finest work of art this campaign at Lords Raceway on August 1, when he ripped 2.7 seconds off the track's mile rate record, stopping the clock at 1.49 flat and including a 26.1-second third quarter. And finally, on August 15, his 26.2-second last quarter was half-a-second faster than any horse had hit the line at Shepparton.
So what does the Ballarat Beast have to do to enter the Terang records books?
Tam Major and Im Sir Blake, who'll take on Ride High on Saturday night, share the track record (1:53.6 mile rate), while Rocknroll Icon holds the quickest third quarter (27.1 second) and last half (55.5 seconds) and Cant Refuse the quickest last quarter (27 seconds).
Quite extraordinary, Rocknroll Icon set his records as a two-year-old and making his race track debut.
HERE'S A LOOK AT THOSE RECORD SETTING RUNS:
1:53.6: Tam Major runs a track record mile rate (Feb 16, 2019):
1:53.6: Im Sir Blake matches Tam Major's mile rate track record (April 17, 2020):
55.5/27.1: Rocknroll Icon (a 2YO on debut!) sets the fastest last half and third quarter (Aug 30, 2016):
27.0: Cant Refuse sets the fastest last quarter (Oct 4, 2017)