The last of the four-part dive into Australia's longest-running grass track harness race, the Bendigo Jockey Club Open, encompasses 1930 to 1954, an era extended after research revealed a surprise discovery.
The deep dive into the Epsom Racecourse classic found that what was thought to be the last running of the BJC Open in August 1946, won by Elsie Innes and trained and driven by Bill Rothacker of Serpentine, was not the last.
There were three more.
Surprisingly after a gap of six years, there was an Open Harness Race at each of the January meetings of the Bendigo Jockey Club in 1952, 1953 and 1954.
With the addition of those three, the longest running grass track harness race in Australian trotting history spanned 87 years from 1867 to 1954, with a total of 206 editions.
This article, the last of four includes:
Economy downturn: cuts to prizemoney with harness races back to four a year
The war years 1941-1945, with no BJC Open
Three Gath brothers win
The boys from Boort: Robertson and Butterworth
Who was Harry Toomer?
Bendigo's best: Wilkie Lea and George Daniel
Progeny of Globe Derby and his descendants dominate
Edgar Kennerley of Interdominion and Ace Saddlery fame wins
The end of the grass track era and the opening of Lord's Raceway
The Honour Roll: leading drivers/riders, owners and horses.
Click on the below links to read the previous chapters:
On to Part Four: The Final Chapter, where there were a variety of opportunities for harness horses.
Agricultural Shows
By the end of the 1920s, harness racing had become an integral part of Victorian agricultural shows, with the major event being the Royal Melbourne show at the Showgrounds in Ascot Vale.
Harness horses competed for sashes, cups and cash by being judged in the many classes in the show ring, racing on the small tracks circling the show arena or competing in an event peculiar to the shows, the Time Test.
One of the earliest examples of a show Time Test, where trotters and pacers were pitted on their own against the clock, was reported in the Bendigo Independent on Friday October 14 1892.
The Time Trot
On no occasion at an Agricultural Show in Bendigo have so many first-class trotters been exercised before the public. The handsome £l5 15s trophy was presented by Mr. J.B. Watson for the fastest trotter and pacer to be driven or ridden against time. Such animals as Princess (banned for life from racing - the future dam of the influential NZ sire Prince Imperial), Effie Deans, Dolly, Sir John and Prince Edward were entered. Effie Deans, ridden by her owner Mr. Sam Lazarus, President of the Bendigo Jockey Club, showed the spectators a rare burst of speed, cutting out the mile in 2min. 45sec, as against her own record of 2min. 42sec, on the previous day.
The aforementioned J. B. Watson could afford the £15 15s trophy, having he made millions from gold mining. He had enough money to establish the Sydney Daily Telegraph and jointly start the Federal Bank.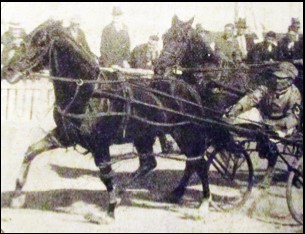 Non-betting racing at the Shows
At the Bendigo Show in October 1929, local trainers including "Bronco" Hughes, Charlie Caldwell, Wilkie Lea and George Daniel were well represented in the races.
Pictured: Babe Siam and D Hughes win at the Bendigo Show.
BENDIGO SHOW (NON-BETTING) 09-10-1929
TROT – 20 pounds – One mile
First heat:
J Paynter's BABE SIAM, 36ys (D Hughes) 1
C Caldwell's Powlett Direct, 24yds (C Caldwell) 2
F Yates Grannie Bells, scr (D McGuinness) 3
Margins: Won by 20yds Time: 2m 39s
Second heat:
AJ Lea's DARK MCKINNEY, 78yds (W Lea) 1
G Daniel's Earl Direct, scr (F Donaldson) 2
Margins: Won by 3yds Time; 2m 32 3/5s
The next day Diana Wood and Percy Direct, both winners of the richest harness race in Victoria at that time, the Richmond Thousand, were competitors at the show. Both were trained by Bendigo school teacher George Daniel, who competed in registered trotting meetings, where betting was permitted under the nom de plume 'D George'.
BENDIGO SHOW (NON-BETTING) 10-10-1929
TROT – 25 pounds – One mile
First heat:
G Daniel's DIANA WOOD, 96yds (F Donaldson) 1
M Flack's Enice Direct, 48yds (W Lea) 2
H Nelson's Dixies Pride, 54yds (C Caldwell) 3
Margins: Won by 18yds Time: 2m 25s
Second heat:
GH Nelson's EMMIE DIRECT, 12yds (C Caldwell) 1
H O'Connor's Pearl Voyage, scr (H O'Connor) 2
G Daniel's Percy Direct, 48yds (G Daniel) 3
Margins: Won by neck Time: 2m 30s
Where did they race during the 1930s?
Due to the world-wide depression triggered by the Wall Street financial crash of 1929, few Victorian racecourses managed to carry on normal operations and fewer still horsemen were able to maintain professional stables in the light of diminished opportunity.
In Central Victoria during the period 1930-1940 prior to World War II, harness racing was conducted on the racecourses at Myers Flat, Elmore, Goornong, Epsom, Carisbrook, Rochester, Carisbrook and Kyneton.
Races were also programmed at mixed sports events held on the local football grounds at Neilborough, Muskerry, Sebastian and Raywood.
The race tracks at Inglewood, Korong Vale, Axedale and the original Wedderburn racecourse had been closed and the land used to establish golf courses.
However, the newly formed Bendigo Trotting Club rented the Bendigo Racecourse from the Jockey Club up to four times a year between 1924 and 1934 to run their own meetings at which they programmed the first Bendigo Cups. Minutes of the Bendigo Trotting Club of that time show that the charge for rent of the Epsom racecourse complex was £25 for the day.
Remarkably, in 1924 there were four Bendigo Cups, as one was included on the program of each of the four meetings. After 1929, there were only three more conducted, until the Bendigo Trotting Club folded in 1934.
The winners of the seven original Bendigo Cups, held at the Epsom Racecourse Bendigo
1924: Feb - Kinnie Bazil, William Riedell (Tongala); July - Grand Voyage, Paddy Glasheen (Huntly); Oct - Queen Pirate, Paddy Glasheen (Huntly); Dec - Dummy, Bill Fortington (Horsham).
1929: First Cast, Orme Marshall (Ballarat).
1930: Princess Mauritius, George Gath (Port Melbourne).
1932: Le Wilkes, Alex McPherson (Stawell).
The 1932 edition was the last Bendigo Cup until Kalama's Peak, trained and driven by Jack Moore of Maryborough, won the first of the Bendigo Pacing Cups at Lord's Raceway in 1965.
BENDIGO TROTTING CLUB (Epsom) 09-04-1932
NOVICE – 20 pounds
TRIAL – 25 pounds
TROT & PACE (unhoppled) – 25 pounds
OPEN – 25 pounds
FLYING – 40 pounds
BENDIGO PRESIDENTS CUP – £ 134 plus £ 25 trophy – One & quarter miles:
A McPhersons LE WILKES, scr (A McPherson) 1
C Browns Warinda Derby, 24yds (W McKay) 2
W Hyetts Diana Wood, 24yds ("D George") 3
Winner trained by A McPherson)
Others: A Truscotts Tonys Luck, scr (D Hughes) (4th), My Pal, scr (W Vines), Dollie Bazil, scr (WH Simmons), Dons Best, scr (N Minchin), Dollywood, scr (W Lea), Diana Boy, 12yds (H Shinn), Enice Direct, 12yds (L Button), Picador, 12yds (G Gath), Burnealto, 24yds (C Caldwell), New Derby, 48yds (C Robertson), Almont Wilkes, 60yds (N Einsiedel).
Margins: half yd X one yd. Time: 2m 57 1/4s (WR: 2m 21 4/5s).
Racing goes on at the Bendigo Jockey Club
Despite the testing economic conditions of the time, the Bendigo Jockey Club continued to program one harness race at each of their thoroughbred meetings.
Click here for the fields for the Bendigo Jockey Club races in November 1936.
Race five of the six was the Handicap Trot of One Mile and a Quarter
3.43 — HANDICAP TROT
12.22 or better
One mile and a quarter
The field: Lionel Direct, Enice Direct, Final Chimes, Miss Cliveden, Judy Pointer, Prince Pirate scr; Sierra Leone, Phar Patrol, Black Panther, Desert Ribbon 12; Casatar 24; Lee Globe, Picador, Burnealto 48.
The horses in this field were no slouches. Black Panther (Dalla Derby – Minnie Alto) won 16 races at Ascot, Picador (The Design – Marguerite) won 11 races in Melbourne (two at Richmond, nine at Ascot), and Prince Pirate (Tennessee Direct – Queen Pirate) won seven races at Ascot.
Winning drivers at Bendigo were some of the best in Australia. In 1936, 37, 38 and 39, the Bendigo Jockey Club conducted four BJC Opens each year. Inter Dominion winning driver Edgar Kennerley (Single Direct 1949) scored in 1936, Charlie Robertson of New Derby fame won in 1936, 1937 and 1938, and future Hall of Famers George Gath, Bill and Jack McKay and Hubert Shinn were successful.
In 1939, with the shadow of World War II on the horizon, there were only two BJC Opens conducted, one in February and one in May.
World War II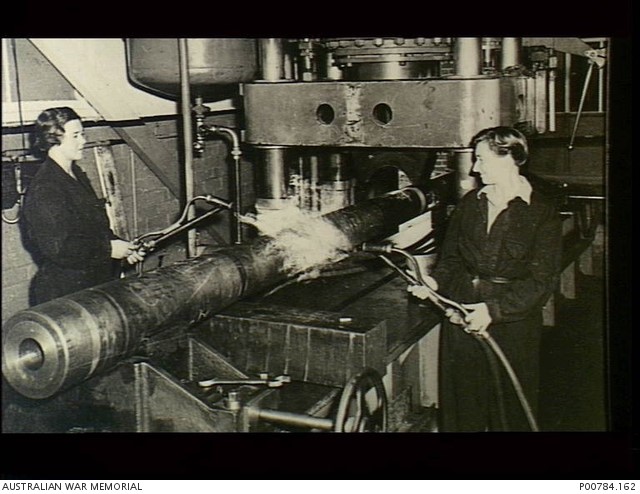 On September 1, 1939, Hitler invaded Poland from the west. Two days later France and Britain declared war on Germany, beginning World War II.
Australia entered the war on September 3 1939, following the Government's acceptance of the United Kingdom's declaration of war on Nazi Germany.
Six years of warfare completely changed Bendigo. Just like during the COVID-19 pandemic, severe travel restrictions were imposed, with blackouts, rationing, and the very real threat of invasion constant.
People faced challenges they had never been asked to meet to help the war effort, including women who took up work previously done by men.
Many women who had been employed at Bendigo shops and offices were recruited to the massive Ordinance Factory in what is now North Bendigo. They became highly-skilled munitions workers. The Bendigo tramway system was operated mainly by women.
Pictured: Women employees at the Ordnance Factory Bendigo World War II.
The end for Ascot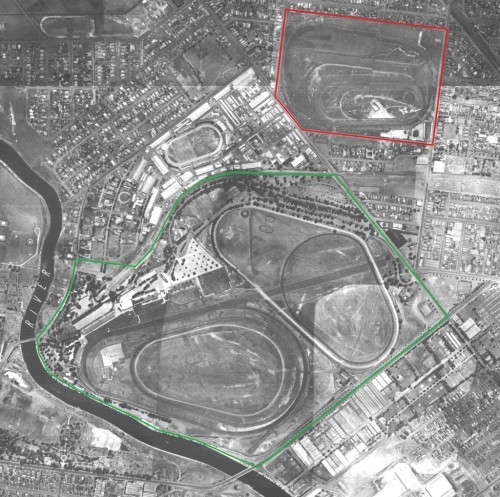 The intensification of World War II in 1942 placed further restrictions on race meetings throughout Australia. Ascot, the metropolitan trotting track in Melbourne was not spared. A short newspaper article in September 1942 advised that the racecourse was "required for other purposes" and would not be available for race meetings during the war.
Richmond, which had staged its first trotting race in November 1891, had closed on July 25 1932 and became a housing estate.
Ascot had opened in October 1893 with trotting races ceasing in 1910. Then, for 10 years from August 8 1932, it took over as the metropolitan venue for trotting from Richmond until the last race on August 29 1942.
Pictured: Ascot Racecourse (top) with neighbours Flemington and the Showgrounds in 1945.
During that period, Flemington, Moonee Valley and Mentone were the metropolitan racing venues. By end of the war in 1945, Caulfield Racecourse was allowed to re-open, but for Ascot it was the end.
One of the few venues for harness racing was Wayville in Adelaide. During this period, many Victorian trainers, including Charlie Robertson, Bill Rothacker, Ron Males, George and Albert Gath, made many trips across the border to race horses. They had to be very resourceful, as fuel was rationed and could only be obtained with ration cards.
The Bendigo Racecourse and Showgrounds were occupied for military use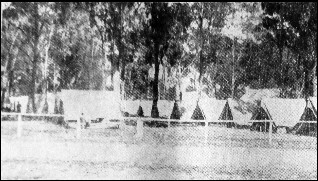 Work on the Epsom racecourse and the Showgrounds to make them ready for military trainees started early in 1940. The first influx of troops arrived at the racecourse via the railway siding on June 20 1940, when BJC President Bill Lienhop handed the racecourse over officially to Lieut. Colonel Blanch. Included was the committee room for Blanch's personal use. In a short time, there were more than 850 men encamped there.
Pictured: Troops occupy the Bendigo Racecourse.
Racing came to a halt
The last harness race recorded in the Bendigo district was at Marong on Boxing Day (December 26) 1940.
NOVICE – 10 pounds – One & quarter miles
E Shawbrookes brg5 ALMONT CHIMES, scr (E Shawbrooke) 1
Macs Best, scr (T Taylor) 2
Betty Adonis, 48yds (G Nelson) DH3 Great Dawn, scr (S Hughes) DH3
Others: Derby Morn (scr), Neat Vin (scr), Grand Reward (scr), Allies Gift (scr), Tennessee Lad (scr), Bonny Valmai (scr), Gabys Dalla (scr), Dixie McKinney (48yds)
Margins: Half yd X 3yds Time: 3m 3 1/2s (WR: 2m 26 4/5s)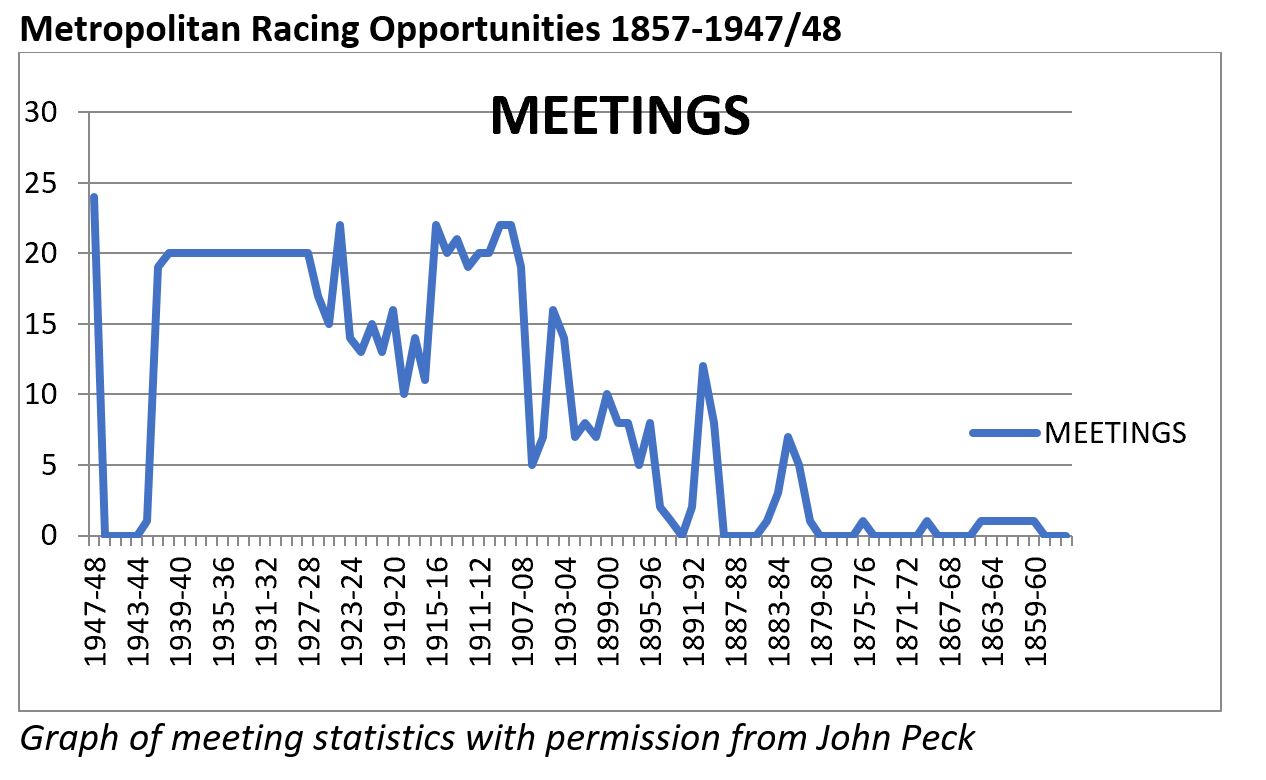 The impact on racing by World War II, can be seen in this graph (right) of the frequency of metropolitan meetings compiled by John Peck.
The breeding changed - local stallions far outnumbered imports
During the last quarter of the BJC Open, the breeding of the winners reflected the halt on importation of stallions from the USA and the impact of colonial stallions, led by the domination of Globe Derby and his sons.
One third of the BJC Open winners during this time were by Globe Derby and eight of his sons, with a further two from his daughters.
Globe Derby sired BJC Open winners were: 1927 Australite, 1929 and 1930 Auburn Lad, 1932 Globes Best, 1933 Star Princess, 1934 Derby Child, 1934 Dorals Derby, 1938 Pink Globe and 1939 Derwent Derby.
The eight sons of Globe Derby that sired winners were Gloalto, Dalla Derby, Derby Chimes, Radiant Derby, Walla Walla, Globepool, New Derby and Radiant Robert. The two Globe Derby mares were Lady Globe, who left Marboe, and Kathleen Derby, the dam of Lulus Quest.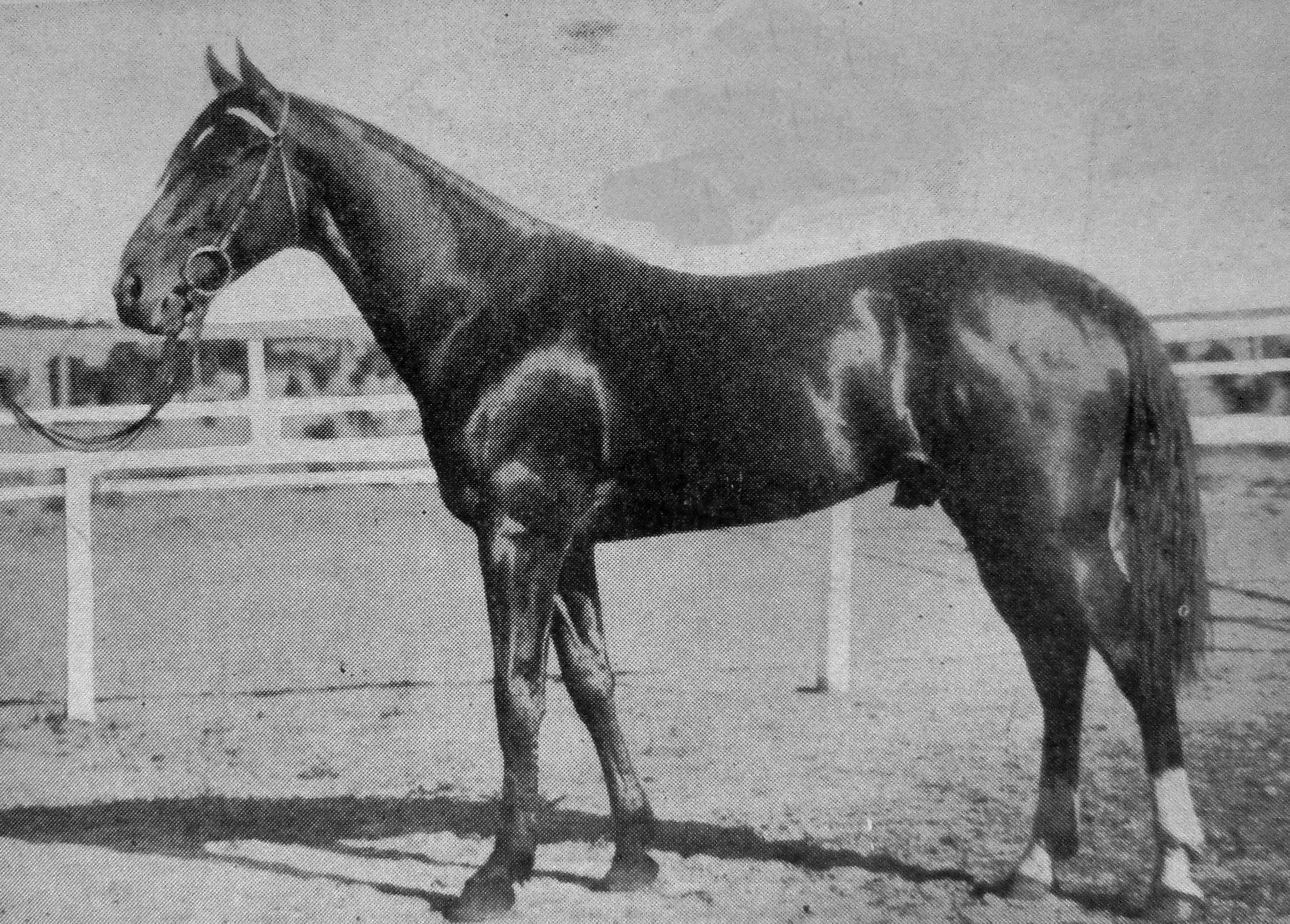 Tennessee Direct (Napoleon Direct – Bet Hal), imported from the USA in 1926 by Robert Matchett for his Adelaide Hill Stud, accounted for three of the eight winners sired by imported stallions. They were the 1936 winners Red Direct and Miss Cliveden, and Cooraminta, who won in 1937 for Charlie Robertson.
Pictured: Tennessee Direct, sire at Adelaide Hill Stud.
For 30 years there were no direct stallion imports from the USA
Tennessee Direct was the last USA-bred stallion imported directly into Victoria (1925) until Edgar Tatlow imported Volo Chief and Stanton Hal in 1955. During these 30 years, a small number came via other states or New Zealand. Some American bred trotters, including Floridoro and Good Report, came from Italy.
The other six imported stallions that sired BJC Open winners during that time were Directway, Clarke McKinney, The Design and Locanda from the USA, and Rex Wilkes and Adonis from NZ. Grattan Loyal (USA) spent his career in New Zealand.
Australian (colonial) bred stallions, apart from Globe Derby and his sons, also sired winners.
Among the locals were:
Siam (Mauritius – Sihamba), sire of 79 winners who stood at Elmore for the Hunters, then Koyuga and Ararat
Basil B (Huon Junior – Vanish), sire of 35 winners who stood in Tasmania and then Tongala
Lord Lulu (Lulu Boy – Greta) who spent four years at Junee, then the rest of his career in South Australia, sired 58 individual winners.
The winners: 1930-1946
Year

Date

Stake (£)

Winner

Sire

Best time

Owner

Driver

1930

Jan 1

Feb 6

Aug 14

Nov 27

35

40

55

60

Great Derby

Gunbourne

Enice Direct

Dollywood

Globe Derby

Siam

Directway (US)

Lord Ribbonwood

2:16.5

2:12.3

2:15.2

2:24.0

W Crapper

J Hancock

W Lea

W Lea

J Reid

G Gath

W Lea

W Lea

1931

Feb 4

Feb 5

May 5

Aug 27

30

30

30

35

Dollywood

Direct Clarke

Periana

Whoopee

Lord Ribbonwood

Clarke Mckinney (US)

Periscope

Siam

2:24.0

2:20.0

2:21.2

2:22.2

W Lea

C Fogarty

J Forsyth

W Hancock

W Lea

F Scantleton

G Gath

G Gath

1932

Feb 4

May 19

Aug 25

Nov 24

30

40

40

40

Connie Glo

Emmett (NZ)

Happy Don

Grand Clare

Gloalto

Brent Locanda (US)

Don Alto

Grand Voyage

2:12.7

2:21 ¾

2:18.6

2:17.2

G Kelly

T Taylor

M O'Keefe

N Reilly

G Kelly

T Taylor

G Taafe

D Sexton

1933

Feb 2

May 18

Aug 24

Nov 30

50

30

35

40

Plain Clothes

Percy Direct

Jacks Dalla

Final Chimes

Adonis (NZ)

Directway (US)

Dalla Derby

Derby Chimes

2:16.8

2:28.2

2:22.5

2:18 ¼

J Foster

W G Hyett

R Brown

D Sexton

H Toomer

H Toomer

W McKay

D Sexton

1934

Jan 31

Feb 1

May 17

Aug 23

Nov 22

30

30

35

40

35

Dorals Derby

Solvista

Derby Child

Waaia Bazil

Stans Idol

Globe Derby

Mavista

Globe Derby

Basil B

The Admiral

2:13.0

2:14.5

2:20.5

NTT

2:13.8

F Shillitoe

J Cockbill

L J King

M Martin

Mrs D Mann

N I Gath

J McKay

C Robertson

C Sexton

D Mann

1935

Jan 31

May 16

Aug 22

Nov 21

30

30

35

50

Prince Floritius

Dalla Boy

Basil Grattan

Bright Gus

Floritius

Dalla Derby

Bazil B

Don Alto

2:17.5

2:10.4

2:12.8

2:22.7

H Shinn

J Brown

H Keith

W Hawkes

W Shinn

A Gath

C Caldwell

W Hawkes

1936

Feb 6

April 30

Nov 27

Aug 20

30

30

30

35

Miss Cliveden

Red Direct

Picador

Our Walla

Tennessee Direct (US)

Tennessee Direct (US)

The Design (US)

Walla Walla

2:18.4

2:19.5

2:13.5

2:16.2

J J Giudice

S Brown

D Sexton

C Luckie

J Giudice

E Kennerley

D Sexton Jnr

G Gath

1937

Feb 2

April 29

Aug 26

Nov 18

30

30

35

50

Billy Bronte

Pedros Gift

Cooraminta

Magician

Bronte

Pedro Pronto

Tennessee Direct (US)

Wrinkle

2:20 ¼

2:20.4

2:17.5

2:12.5

Mrs G Ross

E Appell

J Lewis

E Colley

G Ross

E Appell

C Robertson

E Colley

1938

Feb 3

June 2

Aug 25

Nov 17

30

30

25

50

Robert Downs

Pink Globe

Harold Globe

Lighthearted

Radiant Derby

Globe Derby

Globepool

Rex Wilkes (NZ)

2:17.5

2:14.2

2:17.2

2:17 ¼

C Robertson

W McKay

D Mann

C Lawson

C Robertson

W McKay

D Mann

C Lawson

1939

Feb 2

May 11

Aug 24

Nov 22

30

30

40

50

Takanini

Derwent Derby

Rural Rose

Fair News

Grattan Loyal (US)

Globe Derby

Wilbur Rose

New Derby

2:13.8

2:16.0

2:16.0

2:16.0

Mrs G Gath

C Robertson

E Myers

J Brown

G Gath

C Robertson

H Shinn

T Butterworth

1940

Feb 1

May 9

30

30

Little June

Lulus Quest

Lord Lulu

Lord Lulu

2:17.2

2:18.5

"W James"

H Shinn

W McKenzie

H Shinn

1941-45

Not raced World War 11

1946

June 10

Aug 21

75

65

Prancing Nell

Elsie Innes

Harold Pronto

Robert Derby

2:14.7

2:19.0

W McKenzie

W Rothacker

W McKenzie

W Rothacker
The Drivers
Many of the drivers who competed at the metropolitan track at Ascot prior to World War II travelled to Bendigo for the one harness race on the Bendigo Jockey Club program. The metropolitan drivers at the August 1939 Open were Hubert Shinn, George Gath, Tom Butterworth and Albert (Darkie) Gath. They were joined by locals including Clarrie Long, Charlie Caldwell and Charlie Robertson from Boort.
Harness racing historian John Peck wrote:"The 1939 BJC Open – a mighty fine collection of horsemen".
The results were:
BENDIGO 24-08-1939
DISTANCE – 40 pounds – One & quarter miles
"E Myers" bga RURAL ROSE, 12yds (H Shinn) 1 "E Myers" was an assumed name. Sometimes shown as E Meyers
G Gath's bg6 Takanini, 24yds (G Gath) 2
J Brown's bh5 Fair News, 24yds (T Butterworth) 3
Others: Nice Vin, scr (J Brown), Tennessee Lad, scr (C Long), Santa, scr (C Caldwell), Parisian King, scr (A Gath), Admiral Derby, 12yds (C Robertson)
Margins: 2yds X half yd Time: 3m 1 3/4s
Winning drivers during the final quarter of the BJC Open
Thirty-four different drivers competed in the Bendigo Jockey Club Open during the "last quarter". Among them were:
Three of the Gath brothers
George, Albert and Norman Gath were originally from Shelbourne, west of Bendigo, but moved to Murrabit in the Kerang area and eventually Gunbower.
George was the first to move to Melbourne, and remains the only driver to win at Richmond, Ascot, Melbourne Showgrounds and Moonee Valley as well as the first person to win 300 races in Melbourne. He won six Victorian driving premierships, four Melbourne driving premierships, two Adelaide premierships and was beaten by one in a Sydney drivers' premiership.
Among the many top-line horses that George trained and drove were Paddy McKinney, Bingen Redmond, Carlottas Pride, Delvin Dancer, Joy's John, Heroic Action and Tara Meadow.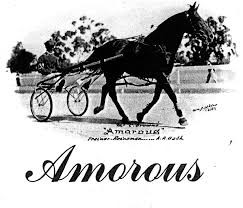 Albert (Darkie) Gath trained in Melbourne and Adelaide mainly for the big spending Brown brothers (see also Tom Butterworth) and had the outstanding pacer Amorous, who won its first eight races. In total, Amorous won nine races at the Melbourne Showgrounds and then won 14 races at Wayville in Adelaide. Hattaras was another of Albert Gath's stars.
Pictured: Albert "Darkie" Gath and Amorous
Norman trained and drove in Adelaide and later Ballarat. Among the notable horses he drove or trained were SA Breeders Plate, SA Sapling Stakes and Inter Dominion heat winner Fiery Land and the Victorian Trotters Derby winner and Australian 2YO/3YO Trotter of the Year Dancing Report.
Hubert Shinn and his son Bill
Hubert Shinn, originally from Wantabadgery in NSW, travelled widely winning races in four states. Racing at Boort he noted a horse named Burly Vin. After negotiating a sale arrangement, he took over the training of Burly Vin (Vin Direct from a Bronte mare) from Ted Glasheen of Buckrabanyule. Burly Vin won consecutive Ascot £500s and the Tasmanian Cup, and won nine races in succession in 1939. He won 10 races at Ascot and five at Wayville.
Shinn's winners during the '30s and '40s included Nellie Chimes, Australite, Cosy Corner and Princess Wood.
Hubert trained the winner of the 1935 BJC Open Prince Floritius, who was driven by his son Bill. Prince Floritius later won seven races at Wayville.
Tom Butterworth
Tom Butterworth, from Boort, took Bill McKay's place working for district farmer and horse owner Percy Weaver when McKay left to train in Melbourne. Butterworth was an accomplished horseman, and acted as clerk of the course at district racing and trotting meetings during the late '20s and early '30s.
He moved to Melbourne to work for Syd, Jack and Stan Brown, wealthy owners of a transport business who had a large team of racehorses. His career flourished and he won the 1939 metropolitan trainer-driver premiership at the Royal Melbourne Showgrounds with 11½ wins from Charlie Robertson, Bill McKay, George Gath and Hubert Shinn.
The Brown brothers moved some of their horses to Adelaide and Tom went with them. He became one of South Australia's leading horseman, retiring with more than 1500 winners including four SA Derbies, Victoria and NSW Derby, Victoria Oaks, an Inter Dominion Heat and five SA Classics.
His top horses included Nevamaid. High Raider, Aaron, Black Douglas, Friendly Boy and Kiwi Para. Bobby Linden won 24 races including the Hobart Cup from 36 yds behind.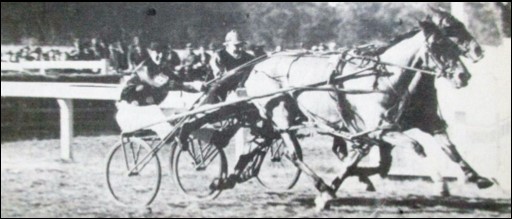 Charlie Robertson Jnr.
Charlie Robertson, a Boort district farmer and trainer-driver, won his first race driving a horse called Black Spot in 1912 when he was 16. He drove many winners in the 1920s and 1930s, some of them trained by his father Charles Snr who had raced horses from the 1890s. He had a top trotter in Fair Admiral, who won the 1929 Victoria Trotters Derby among other races.
Pictured: Charlie Robertson and Cooraminta
As his career flourished, Charlie Jnr won with such horses as Lee Voyage, Royal Bronte, Johnnie Bronte, Betty Direct, Bonnie Heather and Leading Style.
He was given the Globe Derby stallion New Derby to train by owner Jack King of Quambatook. He travelled to Tasmania and Western Australia with New Derby. In Tasmania in 1935, New Derby won the Hobart and Launceston Cups and in WA in 1936 won two heats of the inaugural Inter Dominion. Among New Derby's wins were the 1932 and 1933 Ascot £500. He left 147 winners when standing at stud at Quambatook.
During World War II one of the few venues for harness racing was Wayville in Adelaide. During this period Charlie made many trips across the border to race.
On the commencement of night trotting, Robertson won many at the Royal Melbourne Showgrounds with Something New, Village Derby and Midnight News, New Gold, Canargo and Tennessee Derby. A bad race smash on Tennessee Derby nearly ended Charlie's life, but he recovered.
In the 1960s Charlie stood the stallion Convivial, who provided him with many winners. He retired from race driving aged 68 and died aged 87 after more than 60 years in trotting.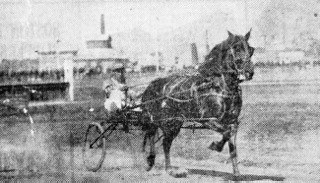 W. A. (Bill) McKenzie
Bill was a Moulamein (NSW) district wheat, sheep and cattle farmer with a property of some 6000 acres. His well-known colours of green with yellow braces greeted the judge over a period of 40 years with the horses Laurie Pronto, Pedro Nell, Little June, Prancing Nell, Little Duchess and the Melbourne Showgrounds, Bendigo and Mildura Cup winner Wongala Glen.
Bill travelled far and wide with his horses and was a regular competitor at country agricultural shows.
Pictured: Bill McKenzie and Little June

Wilkie Lea
Wilkie lived and trained in East Bendigo and won BJC Opens with Gunbourne, Enice Direct and Dollywood.
During the tough times in the 1930s, in order to conserve the funds of the Bendigo Jockey Club, Bob Crowe, former manager of the Adelaide Hill Stud, long-time owner and trainer and also member of the BJC, hit on the idea of a £5 sweepstakes for harness horses, and worked hard to get the nominations.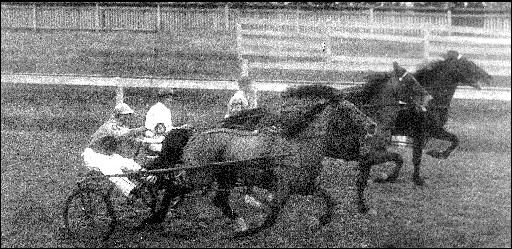 Eleven horses were nominated and eight started. The club added £15. which was divided between the second and third horses, the winner took the pool.
The winner was Dollywood, raced by Wilkie Lea. Off the 2.24 limit she averaged a little better than 2.22 for the 10 furlongs.
Pictured: Dollywood, Wilkie Lea (inside) narrowly wins the February 1931 BJC Open
Two Melbourne horses in Plain Clothes (favorite) and Dixie Abdullah were unplaced.
In the 1928-29 season Wilkie Lea was the leading race driver in Victoria, being successful on 24 occasions. One of his team, Stylish Huon, was responsible for 11 of his wins. Lea passed away in 1939, aged only 53.
Click here for Wilkie Lea's winning driving record
BENDIGO JC (Epsom) 04-02-1931 DISTANCE – 30 pounds – One & quarter miles
W Leas brm DOLLYWOOD, 48yds (W Lea) 1
J O'Connors brg Rowdy Mac, scr (E O'Connor) 2
A Truscotts bg Tonys Luck, scr (D Hughes) 3
Others: Dorrie Alto, scr (J Webb), Derby Direct, scr (C Caldwell), Miralway, scr (J Reid), Opera Boy, scr (JJ Giudice), Pearl Voyage, scr (H O'Connor), Prince Merran, scr (E Chapple), Copper Lady, scr (G Taafe), Direct Clarke, 24yds (E Scantleton), Edna Direct, 36yds (G Nelson), Chief Admiral, 48yds (AJ Lea), Moyne, 60yds (G Lucas)
Margins: Head X half neck Time: 3min (WR: 2m 20.8s)
Harry Toomer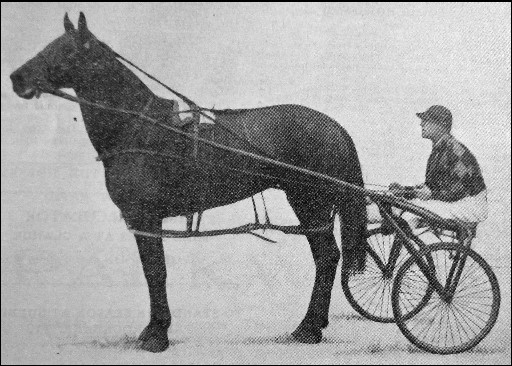 The Toomer family were from Corop, east of Elmore. They conducted stables in Short St, Bendigo, where it was customary for people to hire horses and buggies for a Sunday drive or for tradesmen to hire horses and vehicles for carting.
Harry became a very successful trotting driver, winning for a number of successful trainers including Bill Balloch, who when the Royal Melbourne Showgrounds commenced night trotting in 1947 was appointed deputy stipendiary steward.
Harry Toomer commenced his driving career in 1915 with a win at Rochester and was a regular winner in Melbourne in the 1920s and 1930s.
He won the Ascot £500 in 1936 on Kernel Lu. His classy mare A La Mode won 10 races at Richmond, including the 1925 Fleet Cup, as well as a Bendigo JC Open and two Ballarat TC Opens.
CLICK HERE for A LA Mode's classic race wins.
Pictured: Harry Toomer driving the champion mare A La Mode
The infamous 1927 Richmond Thousand crash, in which 11 of the starters fell, had serious ramifications for Harry. He sued champion horseman Jack James (stewards suspended him for six months for causing the fall) and had the famous Eugene Gorman as his barrister.
Many trotting men planned to attended the trial only for Harry to tell Eugene Gorman to drop the case. Harry instead drove a winner at Bendigo the day of the trial. Harry Toomer was ordered to pay Gorman and James' costs and it bankrupted him.
THE BIG FALL THAT PROMPTED THE COURT CASE
1927 RICHMOND THOUSAND – 1000 pounds – One & half miles
G Minchins chh5 RED BAZIL, scr (G Minchin) 1
J Rowbottoms bha Retreat, 24yds (J James) 2
E Gibbs brha Direct Abdullah, scr (RS Henry) 3
Others: D Kennedys blkha Vin Direct, 54yds (J Devereau) (4th), A Laws bga Straightly, 12yds (W Jones) (5th), Mrs Davies brh5 The Admiral, scr (L Mann) (6th), Le Wilkes, scr (7th), Lulureen, 6yds (8th), Delavan, 18yds (9th), Lord Lulu, 42yds (10th),
Talisman, 12yds (PU), Dixies Pride, 6yds (FELL), Kinnie Bazil, 6yds (H Toomer) (FELL), Nervie Dillon, scr (FELL), Barunga King, 6yds (FELL), Nimble Direct, 12yds (FELL), John Direct, 12yds (FELL), Silent Knight , 30yds (FELL), Dixie Fox, 36yds (FELL), Murray Chimes, 42yds (FELL), Snowshoe, 54yds (FELL), Auto Machine, 66yds (FELL)
Margins: 15yds X 6yds Time: 3m 27s (WR 2m 18)
Harry Toomer's last win was at Warragul in January, 1941.
A nephew, another Harry Toomer, was a jockey and won the 1957 Bendigo Jockey Club Cup on Baroda Beam, but was killed in a race fall at Kyneton.
Click here for Harry Toomer's winning driving record
George Daniel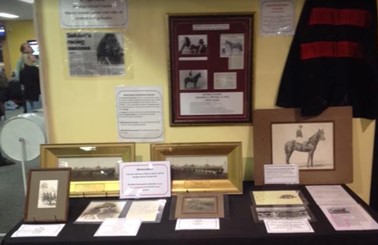 A school teacher, George did not want it known that he owned, trained and drove trotting horses in betting races, so he used the nom de plume "D. George".
George trained more than 100 trotting and pacing winners. Among them were Percy Direct and Diana Wood, successive winners of the Richmond Thousand in 1928 and 29.
Pictured: Display of George Daniel memorabilia at Lord's Raceway Bendigo
After successfully training trotters and pacers, George changed gaits, focusing on training gallopers from his White Hills stables.
Gallopers of note trained by George included Caxton (Ballarat Cup), the sprinter Charltonian (Provincial Cup), Oswald (Bendigo Cup, Woodend Cup) and Royal Symbol (Ballarat Cup).
He trained the champion Sailors Guide, who won the G1 Victoria Derby, Craiglee Stakes (twice), Queen Elizabeth Stakes (defeating Prince Darius and Tulloch), G1 Sydney Cup, G1 AJC St. Leger and LKS McKinnon Stakes.
Sailors Guide won more than £100,000 in Australia, then went to the USA where he won the Washington International (now known as The Breeder's Cup Turf).
George Daniel is one of the very few trainers to win Group 1 races in both trotting and galloping.
Edgar Kennerley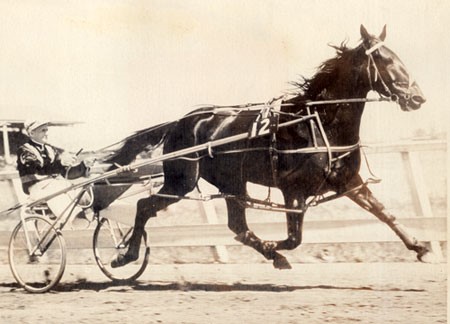 Jack Kennerley, an outstanding Victorian horseman who drove the 1918 BJC Open winner Red Tape, took to New Zealand a Bendigo-bred Directway mare named Rarebell Direct. She managed to win just one race for him, but on retirement she produced, among others, the mare Loyal Direct by the imported Grattan Loyal.
Pictured: Edgar Kennerley on Interdominion winner Single Direct
A useful winner, Loyal Direct became the property of his daughter Maisie on Kennerley's death. Putting her to the imported Single G stallion Bill B, Maisie bred the NZ champion of the 1940s Single Direct.
Single Direct was trained and driven by Masie's brother Edgar, who established an outstanding reputation on both sides of the Tasman as a top horseman. Single Direct was a classy performer in a vintage era for top horses in New Zealand, and capped his great career winning the Grand Final of the 1949 Inter Dominion Championship in Adelaide.
Edgar Kennerley moved to Sydney and scored many wins at Harold Park, including with the champion New Zealand pacer Waitaki Hanover.
Below is a replay of Edgar Kennerley and Waitaki Hanover beating Cardigan Bay at Harold Park in 1963:
Edgar Kennerley was a successful businessman founding the well-known Ace Saddlery, famous for its hopples and harness.
Bill Rothacker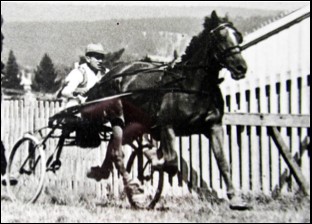 Bill Rothacker and his brothers Vic and Charlie were raised in the Serpentine-Bridgewater district north of Bendigo.
They were the first of the Rothackers to breed, own, race and train their own horses, with the first of their well-known horses being iron mare Susie Royal, who won five races at Ascot in Melbourne from 1934-1938 along with many country races.
Pictured: Bill Rothacker winning at Ballarat with Susie Royal
Bill farmed a property at Serpentine and, along with sons Albert and Gordon, brother Vic and his sons Eric, Des and Stuart, was a very successful owner-trainer-driver.
Bill trained Wilbur's Hope and Avian Again for prolific owner and Hall of Famer Harry Holmfield. Avian Again won 14 races in succession. He won seven races at the Melbourne Showgrounds.
Bill drove these horses before handing over the reins to his young son Gordon.
Other drivers who competed on the grass at Epsom who went on to race successfully in night trotting at the Royal Melbourne Showgrounds included Tom Taylor and his son Howard, Des Mann and the future Hall of Fame McKay brothers Bill and Jack.
Metropolitan winners who won BJC Opens
A long list of horses won multiple races in Melbourne, Sydney and Adelaide won a BJC Open:
Great Derby won eight races in Melbourne (6-Richmond; 2 -Ascot)
Auburn Lad won eight races in Melbourne (5-Richmond; 3-Ascot
Periana won nine races in Melbourne (5-Richmond; 4-Ascot))
Grand Clare won eight races in Melbourne (5-Richmond; 3-Ascot)
Connie Glo won the WA Cup Freemantle Cup
Star Princess won 11 races at Ascot
Final Chimes won eight races in Melbourne (5-Richmond; 3-Ascot)
Percy Direct won seven races at Richmond including the 1929 Richmond Thousand
Waaia Basil won seven races in Melbourne (3-Richmond;4-Ascot)
Prince Floritius won seven races at Wayville in Adelaide
Bright Gus won six races at Ascot
Dalla Boy won 12 races at Victoria Park, Sydney
Picador won 11 races in Melbourne (2-Richmond; 9-Ascot)
Magician won nine races at Ascot
Harold Globe won five races at Wayville in Adelaide
Pink Globe won 10 races at Ascot
Derwent Derby won 10 races at Ascot
Takanini won eight races at Ascot, prior to being sent to NZ to race
Deck Boy won nine races at Melbourne Showgrounds, and a Wayville FFA.
Famous Families
With the benefit of time, it can be seen that many winners of the BJC open were from what became influential and prolific winner-producing families.
In Parts 1, 2 and 3 many famous families were examined.
Using www.Classicfamilies.net and The Australian Trotting Stud Book Mares Index, as well as the digital resource at the Bendigo Library, The Trotting Annals of Bendigo and Environs by John Peck, seven more of these influential families are examined.
Four Australian Families
A6 (Vanity by Vancleve)
Dalla Boy won the BJC Open 1936. Won 12 Sydney races at Victoria Park
Family of Wickawack, James Scott, Deep Tan, Kingstar, Baileys Dream NZ $1,216,513, Replaced Eye 1:50.3.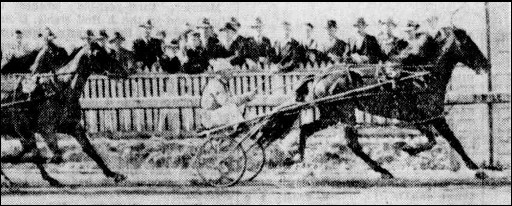 A9 (Boreen by Picaninny)
Magician BJC Open 1937. Won nine races at new Ascot (Vic).
Family of Yellowstone won 14 Sydney races at Harold Park, Derry Down, Sky Rose won 13 at Wayville,
Intuition NZ won 2 cups, Stylish Guy won two Inter Dominion Heats and two Albion Park FFAs.
Pictured: Magician winning at Ascot in 1938
A37 (Myrtle by Flying Perfection)
Harold Globe BJC Open 1938. Won eight at Wayville SA.
Family of Adios Van, won 12 races at Wayville including SA Trotters Cup.
A62 (Buckland's Dora by Vancleve)
Dorals Derby BJC Open 1934. Won at Richmond.
Family of Gay Oaks, 1996 Vic Trotters Oaks, 1996 NSW Trotters Derby.
A New Zealand Family
N621 (Fantasy by Lexington)
Derby Child BJC Open 1934. Sired 13 winners and the mare Justify, the seventh dam of Inter Dominion winner Jodies Babe, and Wildwood Greta, the ancestor of Len 'Curly' Orwin's Imperial horses.
Family of Just Silvertime, won 10 metro races in Perth (8 - Gloucester Park; 2 - Richmond Raceway)
Two North American Families
U312 (Ella Chieftain by Chieftain)
The family arrived in Australasia with the mare Hattie Weir, imported in the 1880s.
Red Tape 1918 and Lighthearted 1938 won BJC Opens
Family of Keystone Del T1:53.7, $1,063,560, who won 16 races at Tabcorp Park Melton, set Aust Trotters Gelding Mile record (2014 - 1:53.9), set NSW Trotters Mile record (2014 - 1:53.9).
U362 (Dana by Daniel Webster)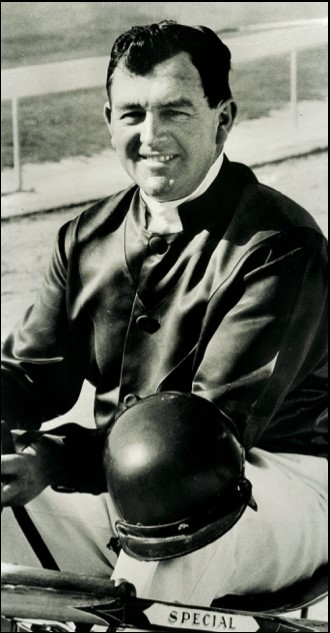 The family was imported with the mare Blonde Grattan in 1901.
Grand Voyage won 1921 and 1925 BJC Opens, and Fair News won in 1939
Family of Blonde Grattan, dam of 10 consecutive winners including the Hall of Fame trotter Grand Voyage, winner of 39 races.
Bingen Redmond, won seven races at Melbourne Showgrounds, set the Aust. Trotters gelding Mile Record (1949 - TT2:08.0) and gave Hall of Fame Legend Gordon Rothacker his first driving win when aged 16.
Pictured: A youthful Gordon Rothacker
Was it the End?
Thanks to the Trotting Annals of Bendigo and Environs by John Peck, which includes the results of more than 15,500 matches and races that were conducted in Central Victoria, it has been found that there were more Bendigo Jockey Club Opens conducted than previously thought.
The first race meeting of the Bendigo Jockey Club after the cessation of World War II was in early June 1946. The meetings that year, including the Cup, were one day only events, rather than the two-day race meetings that were the norm before the war.
This was also the case for the 1948 Cup meeting and perhaps other meetings too. Often quoted in the correspondence of the day were transport and accommodation issues for both horses and people. With a condensed meeting and need to rationalise the program, perhaps the trot was considered a necessary cost-cutting measure.
President Leinhop had put forward at the 1946 AGM a plan to "rehabilitate country racing and decentralise racing generally", citing that a lack of sufficient racing was pushing too many participants into poverty or out of the sport. It seems that a lack of racing opportunities meant the need to dedicate all the program to gallops races.
Additionally, a few weeks after the 1946 Cup, Vice President Frank Goyne died. Goyne had owned many trotters, including the sire Bronte late in that horse's career, and was a strong supporter of trotting. Perhaps without him there to advocate for the BJC Open it was dispensed with.
There was also a strong push from the Club across that period to have Saturday races programmed at Bendigo. For optimum wagering purposes they would have needed to frame a program that suited punters and the media, who often decried the inclusion of trot races on the BJC card.
Whatever influenced the Bendigo Jockey Club committee, they ran three more BJC Opens:
| | | | | | | | |
| --- | --- | --- | --- | --- | --- | --- | --- |
| Year | Date | Stake | Winner | Sire | Best time | Owner | Driver |
| 1952 | Jan 30 | £75 | Little Duchess | Don Globe | T2:13.0 | Miss S Bowring | W McKenzie |
| 1953 | Jan 28 | £70 | Marboe | Cobber O'Mine | 2:14.0 | P Sait | P Sait |
| 1954 | Jan 27 | £85 | Deck Boy | Golden Galleon | T2:14.8 | V Rothacker | R D Rothacker |
The full results of these final three BJC Open races:
BENDIGO JC (Epsom) 30-01-1952
DISTANCE - 75 pounds – One & quarter miles
Miss S Bowrings bm LITTLE DUCHESS, scr (WA McKenzie) 1
Avian Again, scr (N White) 2
Yarooga, 12yds (J Madigan) 3
(Winner trained by W McKenzie)
Others: Pops Delight, scr (H Hargreaves) (4th), Charles Nelson, scr (E Zimmer) (5th), Deck Boy, scr (R Rothacker) (6th), Dain- ty Rose, 12yds (RA Parker) (7th), Bonnie Lynette, 24yds (JM Harrington) (8th), Great Van, scr (G Harpley) (9th), Flying Counth), Chain Lightning, scr (R Taylor) (11th), Colin Vin, 36yds (C Long) (12th), Captain Pronto, scr (HD McInnes) (13th), Margins: 3yds X 8yds Time: 2m 47 2/5s
BENDIGO JC (Epsom) 28-01-1953
TROT - 70 pounds – One & quarter miles
PJ Saits bm MARBOE, scr (P Sait) 1
Kaye Lois, scr (WC Rothacker) 2
Yarooga, 12yds (A Gath) 3
(Winner trained by PJ Sait)
Others: Northern Rose, scr (L Moore) (4th), Wandas Son, scr (T Taylor) (5th), Regulare Girl, scr (J Blissett) (6th), Social Circle, scr (T Gath) (7th), Flying Count, 48yds (V Rothacker) (8th), Kevin Valley, 60yds (G Rothacker) (9th), Gentleman John*, 12yds (E Rothacker) (10th)
Margins: One yd X 6yds Time: 2m 52 3/5s (WR: 2m 18s)
* Last placed Gentleman John, prior to this race, had won nine races. He went on to win the 1955 A G Hunter Cup and the 1956 Inter Dominion with a career total of 54 wins including 15 at The Royal Melbourne Showgrounds.
BENDIGO JC (Epsom) 27-01-1954
TROT – 85 pounds – one & quarter miles
VJ Rothackers DECK BOY, 12yds (R Rothacker) 1
VJ Rothackers Parksure, scr (EJ Rothacker) 2
GP Hyetts Missouri Prince, scr (W Brady) 3
Others: Wandas Son, 12yds (H Taylor) 4th, Regular Girl, 12yds (J Blissett), Tumbarumba, scr (L Pascoe), Uranus, 36yds (N Kiely), New Dasher, scr (ME Nichols), Pats Own, scr (S Hughes), Mavista Wood, 24yds (H Thompson), Golden Casket, scr (J Madigan)
Margins: 6yds X 12yds Time: 2m 54s (WR: 2m 19 1/5s)
Des Rothacker makes history
Finding the additional three BJC Open races means that it was not Bill Rothacker, father of Hall of Fame Legend Gordon Rothacker, who drove the last grass track winner at the Bendigo racecourse. It was his nephew, R.D. (Des) Rothacker, driving Deck Boy.
Des and the trotter Deck Boy, trained by his father Vic Rothacker, will go into history as the final winners of what is Australia's longest running grass track harness race.
Des, aged 93, living at Bridgewater, is the last surviving participant of this unique event,
A home of their own and the end of the grass track era
This extract from 'Bendigo - The Legacy of Gold', written by the late Coulter Award winning author Graeme Goffin in 1986 for the launch of the Breeders' Crown at Lord's Raceway, sums up the end of the grass track era and the beginning of night trotting at Bendigo:
The post-war groundswell of public support for harness racing reached Bendigo at a time when local enthusiasts realised the need for a home of their own. They knew it would be counter-productive to continue racing on the grass track at Epsom while the industry demanded something better.
But the push for purpose built facilities required careful attention to detail since this would be probably be their first and last home.
They searched high and low for an ideal site close to Bendigo yet easily serviced by major highways. It was ironic that they should have retraced the footsteps of their forebears by returning to land encompassing what was once the Jubilee Park track, a few miles east of the city. They were in effect enshrining a sacred site for harness racing. .
Situated on a sweeping bend of the McIvor Highway at Junortoun, the land originally offered little more than blood, sweat and tears to the army of volunteer workers who reported for duty. It was predominately bush, overgrown with a persistent local weed known as Chinese scrub, which demanded perseverance to eradicate on a long-term scale.
There were times when the volunteers wondered if they would ever convert the wilderness into a viable harness racing complex, but they never faltered in their determination. It was no picnic - as those who were there would testify. Vic Rothacker was wounded in action when a flame-thrower backfired and put him in hospital for 16 weeks.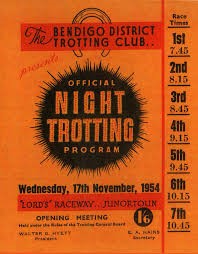 Pictured: The race-book for the opening meeting at Lord's raceway
Club officials framed a six-race program for their big opening night on November 17, 1954, when harness racing returned to one of the strongest districts in the country.
It turned out to be a memorable night in more ways than one as an estimated 14,000 people crammed into the complex creating a traffic jam all the way back to the city. Indeed, cars were still trying to reach the track at 9.15 p.m. - an hour and a half after the first race had started! Spectators lined up twenty deep in places, spreading themselves for three furlongs around the track. Only the innovative white sight fence prevented what might have been total encirclement.
That there was no grandstand for the opening failed to deter the good-humoured crowd. People simply appreciated the fact that harness racing was back in Bendigo and they were entering the record book as the biggest assembly to witness the sport on the Australian provincial circuit.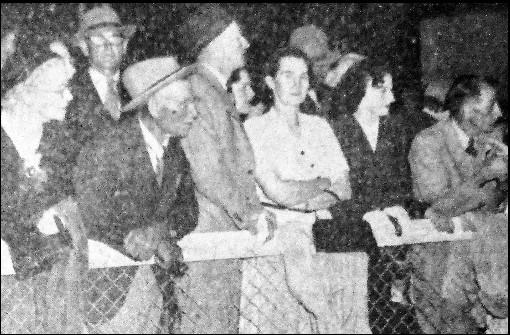 Pictured: Some of the 14,000 who packed Lord's Raceway on opening night in 1954
New Boreen (New Derby - Boreen's Last) driven by Ray Wilkinson won the opening race at Lord's. Starting a hot favourite at 7/4, New Boreen ran away from the opposition to win by 24 yards rating 2:13.
But the feature event - a 2:21 handicap over 11 furlongs - provided the shock of the night when James Dillon came off 48 yards to win by a yard rating 2:09.8. His official starting price was 33/1 yet he paid an incredible 412/1 on the tote to the only two punters holding win tickets.
For the complete list, pedigrees and accomplishments of the Bendigo Jockey Club Open winners, click this link to Classic Families
Honour Roll
The Bendigo Jockey Club Open
Australia's Longest Running Grass Track Harness Race
Years: 1867 – 1954
Editions: 206
Leading Drivers:
Paddy Glasheen 9
Bill Tomkinson 6
Charlie Robertson 6
Edmund Giles 6
George Gath 5
Leading Horses:
Rheola 3
Quality 3
G C 3
Abbey Jim 3
Leading Owners:
Belmont Stud (Busst and Glasheen) 6
A.G. Hunter 3
W Tomkinson 3
W Lea 3
Leading Sires:
Globe Derby 10
Directway (Imp) 8
Abbey Bells (Imp) 6
Bronte 5
Siam 5
Acknowledgement:
Without the painstaking research and recording of historical results by Victorian Harness Racing Hall of Fame member John Peck, formerly of the Australian Trotting Record, Australian Trotting Council, the official Keeper of the Stud Book, former editor of Harness Racing International and co-producer of www.classicfamilies.net, the documentation of the Bendigo Jockey Club Open Parts 1, 2, 3 and 4 would not have been possible.
During John's research over more than 30 years he has accurately recorded the results of all Victorian trotting matches and races from 1854 to 1954.
It is his work, The Trotting Annals of Bendigo and Environs, a digital resource of more than 1500 results, photos and short articles at the Bendigo Library, that has formed the basis of this coverage of the longest running grass track race in Australian harness racing history.
John compiled and freely shared career win records of long forgotten trainer-drivers Harry Toomer and Wilkie Lea.
Sources:
Publications:
Stallions, Nick Hooper
The Trotting Annals of Bendigo and Environs, John Peck.
Australian Trotting Stud Book Mares Index, Australian Trotting Council
Australian Trotting Stud Book Sires Index 1869-1960, Australian Trotting Council
First Past the Post, Daryl Poxon
Australia's Trotting Heritage, Max Agnew
The George Gath Story, Max Agnew
Online resources:
Bendigo Advertiser: https://trove.nla.gov.au/newspaper
Bendigo Independent: https://trove.nla.gov.au/newspaper
Thanks to:
Desiree Petitit-Keating of the Bendigo Regional Archives Centre, for BJC information and images from The Bendigonian.
Stephen Spark, for accurate career records of important horses.
John Willams, for hundreds of pages from Trove with Bendigo Advertiser, Independent and Bendigonian.
Kevin Allan and Grant Innes, for information about trainer/drivers who raced at Ascot and then into the early days of The Royal Melbourne Showgrounds.
Daryl Poxon, for information about the participants in harness racing at Boort and northern Victoria.
Judy Rothacker, for information about the Rothacker and Kennerley families.
Fr Brian Glasheen, for information regarding his grand-father Paddy Glasheen, and Belmont Stud.