The Allens were the largest active trotting family in Australia when this photo was published in 1963, a dynasty that would include a Victorian Harness Racing Hall of Famer and, more than 100 years since Narrewal was their first winner in 1911, descendants continue to snaffle Group 1 glory.
Breeders Crown winning trotter Just A Bit Touchy, 2020 Australia Filly Trotter of the Year
Banglez and My Used To Be, this year's South Australia Trotters' Derby winner, can trace their roots back to the Allens brood.
There's is a story that, like many northern Victorian farming families, was greatly altered by a history-making opening night of harness racing under lights on the 600m track at the Royal Melbourne Showgrounds in Ascot Vale. There, on Saturday, November 15, 1947, some 20,652 patrons were on course.
The following day's The Sporting Globe reported: "Opening night was favoured with fine weather. Crowds began to arrive about 5 o'clock, and had filled the main stands by 6.30pm. The majority of patrons paid 7/- to enter the paddock reserve which was greatly congested all night. The general opinion was that night trotting had clicked."
It had clicked with patrons, but also with those providing the entertainment.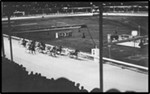 Such was the promise of regular metropolitan class racing, with multiple betting rings of 50 or more bookmakers, an on-course tote and prize money well beyond what country clubs could offer, that a migration took place.
From rural farming communities to the north and west of Victoria came harness racing trainer/drivers eager to be part of the action at the Showgrounds (pictured left).
The farming areas, where horses had provided the power for farming and transport prior to cars, trucks and tractors, had produced trotting names like Rothacker, Gath, Lang, Simons, Redwood, Birthisel, Hargreaves, Richmond, Glasheen, Hando, McKay, Donaldson, Pay, White, Pollock, Marshall, King, Coutts, Robertson and more.
These families had been breeding, training and driving harness racing horses for generations. Some of them started as early as the 1870s.
During the migration to race on a weekly basis at the Showgrounds for six months of the year, Gordon Rothacker from Serpentine set up at Doreen, Alf Simons from Woosang (near Charlton) moved to Deer Park and Bob Birthisel from Whela (west of Wedderburn) stabled at Deer Park, then Essendon.
The Welsh family from Buangor (near Beaufort) took over a farm at Sydenham, the Gleesons from Minyip moved to the metropolitan area, while the McKay brothers Jack and Bill, formerly of Boort and Inglewood, who had already established a team of horses in stables at the Showgrounds, expanded their operation to train more than 40 horses on track.
Jack King from Quambatook, who had earlier raced the champion New Derby, established a stable in Ascot Vale managed by his son, John, while Phonse Hickey stabled close by at Maribrynong.
From Glenloth, a speck on the map midway between Charlton and Boort, in what was then a wheat and sheep farming community, came a family, a very large one, which has left a significant imprint on Victorian trotting.
The Allen family was no doubt the largest to try their hand in Melbourne. They were believed to have been the biggest active trotting family in Australia when this photo was published in 1963.

They are pictured training on the Melbourne Showgrounds track, with Tom Snr (right) starting them. From left are his sons Clarrie (Ariki Whero), Tom Jnr (Goulburn Scott) and George (Brandy Scott), and grandsons Valden (Sky Magic), Adrian (Voltage Control), Lewis (Good Son) and Kevin (Chief Cloud).
IRISH ROOTS
Richard Allen was born in Ireland in 1850 and later migrated to Australia. He married Elizabeth Vinecombe of Campbell's Creek in 1880.
The first of their eight children was born at St Arnaud. The second was born at Avon Plains west of St Arnaud, before the family settled at Glenloth. The remaining six children were all born at either Charlton or Glenloth.
It was the younger members of the family - three boys Tom (born 1891), John (born 1892) and George (born 1895) - who started the Allen trotting dynasty.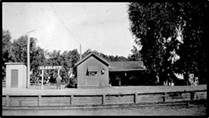 Glenloth is on both the Avoca River and the rail line (left) from Korong Vale to Kulwin. On farms close by were the Glasheen and Hando families, both to become famous in Australian harness racing.
Records show the Allen family were breeding, training and driving their own harness racing horses from before 1911.
They started and nurtured two families of pacers and trotters that have flourished over the past 110 years, producing two current Australian Horses of the Year.
The family boasts a Victorian Harness Racing Hall of Fame trainer/driver, at least 10 successful harness racing trainer/drivers, a well-known bookmaker's clerk and a Geelong Trotting Club President.
THE ALLEN AND GLASHEEN FAMILIES
As sometimes happened during those times when families lived in close proximity to each other, and social gatherings were limited to neighbours, two of the Allen brothers from Glenloth married two of the Douglass sisters from nearby Buckrabanyule.
In fact, four of the Douglass sisters married into harness racing families.
Jane Douglass married Paddy Glasheen, one of Australia's leading trainer/drivers, famous for his exploits with the Hall of Fame trotter Grand Voyage. They became the grandparents of the well-known 'Pacing Priest' Fr Brian Glasheen.
Myrtle Douglas married Jack Allen. One of their sons, Neil, become a President of the Geelong Trotting Club while the third, Marion Douglas, married George Allen. Maggie married Dougal McInnes, who Fr Glasheen relates "was very good with trotters".
Paddy Glasheen stood Bell Metal, an 1898 son of Hambletonian Bell Boy, at Lake Marmal, near Glenloth, prior to moving to the Belmont Stud at Huntly. Bell Metal was by Hambletonian Bell Boy from Duchess by Boccaccio.
HARD WORK WITH A HUGE HORSE TEAM
It is not surprising the family produced so many accomplished horsemen. A great-grandson of Richard, Sunbury resident Adrian Allen relates stories he heard from his father Clarrie of the work that he and two workmates did.
Australia in the 1930s was in the grip of the Great Depression and work was difficult to find. Crops and pasture relied heavily on the unpredictable North-Central Victorian rainfall, which for several seasons had not eventuated.
Unable to earn a living through farming, Clarrie and two mates were engaged in cleaning out irrigation channels with horse-drawn dredges.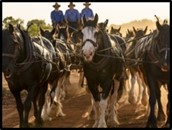 It appears the heavy dredging machine required 16 draught horses to pull it and the horse team was rested and changed often, usually every hour. There were up to 50 horses engaged.
Clarrie and his two mates took their huge team of draught horses (right) to wherever the work was available and were often away from home, sleeping "under the stars" for several weeks. For meals, they caught and ate rabbit, butchered sheep and made damper and tea.
IN THE BEGINNING
The first known record of the Allen brothers Tom, George and John (Jack) racing horses was at the second annual Charlton Trotting Club's meeting in October 1911.
Tom, then aged 20, finished in fifth and last place in a maiden of 15 sovereigns with the four-year-old mare Narrewal. She was named for Narrewillock, an area near the family farm, and was frequently misspelt in newspapers of the day.
CHARLTON TC (2ND ANNUAL) 18-10-1911
MAIDEN – 7 sovs – One & half miles
R Caldwell's BAIN BRIG, scr (G Caldwell) 1
P Glasheens, scr Allie B (P Glasheen) 2
JW Featherstones Lady Antonia, scr (J Harris) 3
Others: H Watsons Nancy H, scr (J Kennedy),
T Allens Narrewal, scr (T Allen)
Margins: Won by 25yds Time: 4m 41.5s
TIME – 15 sovs – One & half miles
Later the same day, Tom produced Narrewal again and won his and the mare's first race.
LOCAL TROT – 5 pounds - Two miles
T Allens NARREWAL, 3secs (T Allen) 1
H Watsons Nancy H, 5secs (J Kennedy) 2
P Glasheens BMB, scr (P Glasheen) 3
Only 3 starters
Margins: Won by 150yds Time: 5m 35s
DARKIE THE FOUNDATION MARE
Narrewal and her older sister, who was never named, were from the mare Darkie. Darkie, was by a thoroughbred stallion from an unknown mare, which for those times was not unusual. She had no race record, but her sire was no ordinary thoroughbred stallion.
On the Loddon River, 40km upstream from Bridgewater in the Eddington area, where the Laanecoorie Weir was built to retain water for irrigation, was Tullaroop Farm.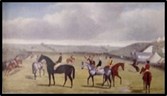 It was the pastoral property of John Mullins Jnr, who had a thoroughbred stallion named Planet and used him commercially at stud. Planet was the son of Panic (pictured), a stallion sired in England, who ran second in the 1865 Melbourne Cup.
In 1887 Planet was advertised as travelling to Carisbrook, Maryborough, Talbot, Amherst, Bung Bong, Alma and Bet Bet to service mares. How he came to service the mother of Darkie, as the Allen property at Glenloth was 140km from Eddington, is unknown.
DARKIE AND HER TWO DAUGHTERS
In the early 1900s the unraced Darkie delivered the first of two daughters to the imported American standardbred stallion Hambletonian Bell Boy. She is recorded in stud records as Allen's Hambletonian Bell Boy mare.
In 1907, the second daughter of Hambletonian Bell Boy and Darkie was born, and this time the foal was given a name. She became Narrewal.
A HAMBLETONIAN GRAND-SON AT BRIDGEWATER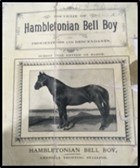 Hambletonian Bell Boy was one of the first of the Hambletonian 10 sire-line horses to be imported into Australia. He was foaled in 1886 and sired by Ulster Chief, one of the lesser known sons of Hambletonian.
He was exported from California to Sydney in May 1889 by John Trestrail and John Burns, then sold to T. L Hamling of Oakhill Stud, Bridgewater in August 1889 for a reputed sum of 1200 guineas.
T. L. HAMLING
Thomas Light Hamling and his wife, Mary, were married in Sandhurst (now Bendigo) in 1866 and were granted land in the 1870s on the Loddon River in the Serpentine district, which they named Oakhill.
Oakhill, comprising 250 acres, was five miles downstream of Bridgewater. They had another 250 acres on the other side of the Loddon River.
Hamling had a mixed farm, milking 60 cows and selling the cream to the Bridgewater North creamery. He grew cereal crops, fruit and vegetables and engaged in trotting as a hobby.
The first mention of Hamling and his horses is in the historic Victorian harness racing results on a massive data-base compiled over more than 30 years by historian John Peck.
Hamling owned and raced the mare Little Jane, who came third in a three-mile trot at Turner's Crossing (later named Yarrayn) in April 1873. Hamling had other winners with Paddy at Serpentine and Flora at Inglewood.
In 1886 at the metropolitan track at Elsternwick, Hamling had the three-year-old Maud, who finished fourth in The Australian Sires Produce for three-year-olds.
He owned and raced the prolific trotting winner Master Crichton (also by Planet, the thoroughbred) who won its first race as a six-year-old at Inglewood in 1896.
INGLEWOOD 23-03-1892
TROT – 15 sovs – Abt Three miles
T Hamlings bg6 MASTER CRICHTON, scr (Hamling) 1
H Williams grg6 Cockey, 5secs (White) 2
W Jones (ns) bm7 Dolly, 7secs (W Storey) 3
Others: FJ Pethericks Little Queen (scr), J Munis Dolly II (7secs), JR Smiths Flora Temple (15secs), M McCauleys Wakool (15secs), G Howells Little Nell (20secs), DJ Turpies Lady (40secs)
Time: 8m 50s
Hamling was standing Hambletonian Bell Boy at the Bridgewater property when the New Zealand brothers Tom, Newton and Dave Price were in the Bendigo district.
The brothers trained horses for the wealthy gold mining magnate Sam Lazarus, president of the Sandhurst Jockey Club, owner and sometime driver of trotters. They were closely associated with Bob Crowe, who was later the stud-master for Robert Matchett at the Adelaide Hill Stud at Huntly.
The Prices had with them the New Zealand mare Princess, a free-legged pacer reported to be the best in New Zealand, which they raced at the Elsternwick track in Melbourne.
She was banned for life by stewards for inconsistent performances, so the Prices gave exhibitions at shows and in 1890 in The Mall at Sandhurst.

The Bendigo Advertiser of 1890 reported: "An exhibition of trotting was given in the Mall on Saturday by the celebrated mare Princess, lately disqualified at Elsternwick. She was ridden by her owner Dave Price, the crack New Zealand jockey, who gave an admiring crowd a sample of his skill, jumping off and on to the saddle while the mare was going at full speed. Princess is undoubtedly the fastest trotter in the Australian colonies. It is, we believe, intended to exhibit her at the Sandhurst Agricultural Show when Lord Hopetoun will be present."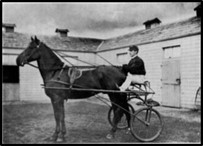 She was mated with Hambletonian Bell Boy and foaled a colt in 1891, who was named Prince Imperial. Prince Imperial won a trot at the Epsom Racecourse in Mordialloc, before being taken to New Zealand while Princess remained with Crowe and was later exported to India.
In New Zealand, Prince Imperial (left with Dave Price) won races at the Addington and Plumpton Park courses in Christchurch.
As a stallion in the South Island of New Zealand, Prince Imperial sired 112 winning offspring and was the dam sire of 131, but he has achieved almost legendary status through the deeds of his mares.
The website www.ClassicFamilies.net shows that at least 34 New Zealand families had their origins with mares sired by Prince Imperial.
HAMBLETONIAN BELL BOY'S INFLUENTIAL SON
Seven of the families started by Prince Imperial mares are expanded below to show the extent of his influence. The number of winners in Australasia and North America who have his sire Hambletonian Bell Boy in their female pedigree is staggering.
N3 Red Diamond family: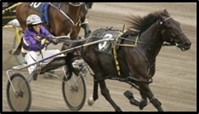 The greatest product of the Red Diamond family is four-time Inter Dominion Pacing Champion and Hunter Cup winner Blacks A Fake (right) with 72 wins. Others include the New Zealand Cup winners Marlene, Thunder and Just An Excuse (twice), Derby winners Tactile, Noodlum, Winning Blue Chip, Matai Dreamer, Matai McKenzie, Oneinamilion, Best Deal Yet and the Miracle Mile winner Smooth Satin.
N12 Miss Kate family
Through Grice's Prince Imperial mare the family winners include Aberfeldy, Royal Silk (Auckland Cup), Haughty (first NZ race winner in 2:00 and NZ Hall of Fame), Rupee, Brahman, Jacobite, Rocky Star, Sammy Karamea, Shakamaker, Franco Heir, Destreos, Musical Delight and the 2021 Make Mine Cullen winning mare Spellbound.
N41 Lady Clare family
The family includes the NZ Cup winners and millionaires Luxury Liner and Christopher Vance, and the 2021 NZ Cup winner Copy That. Other families include N50 Princess Dolly with the 1961 Inter Dominion winner Massacre and the trotter Lets Get Serious ($656,652), N77 Eastern Lady with Australian three-year-old horse of the year For A Reason (1:49.4.), and N94 Dam Of Sincerely with the best being Miracle Mile winner The Scotsman and Victoria Derby and WA Golden Nugget winner Tricky Vic.
In Australia, the N126 Cow's Prince Imperial mare family prospered.
Her daughter New Zealand Greta was imported to Australia by A.G. Hunter and bred to Globe Derby. The foal became the champion pacer New Derby. Extensively bred from by Jack King of Quambatook, with most trained by Boort farmer Charlie Robertson, the branch from New Derby's sister Southern Maid produced quality pacers including the 1989 Perth Inter Dominion champion Jodies Babe.
ALLEN'S HAMBLETONIAN BELL BOY MARES
Having two fillies by Hambletonian Bell Boy would prove to be of enormous benefit to the Allens, as most, if not all their early winners descended from them. The younger filly Narrewal first made it to the races in 1911 as a 4yo.
CHARLTON TC (2ND ANNUAL) 18-10-1911
MAIDEN – 7 sovs – One & half miles
R Caldwells BAIN BRIG, scr (G Caldwell) 1
P Glasheens, scr Allie B (P Glasheen) 2
JW Featherstones Lady Antonia, scr (J Harris) 3
Others: H Watsons Nancy H, scr (J Kennedy),
T Allens Narrewal, scr (T Allen)
Margins: Won by 25yds Time: 4m 41.5s
TIME – 15 sovs – One & half miles
Later in the day Narrewal returned, again reined by Tom Allen to win the 2 mile Local Trot of £5.
THE ALLENS WEREN'T AFRAID TO TRAVEL
To take horses to tracks to race the usual practice of the time was to tie the race horses to a horse-drawn buggy or jinker and head off the day before a district race meeting. In some cases, several days were needed to get to a far-away race meeting or agricultural show.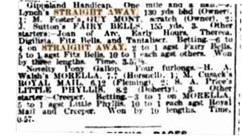 It's not surprising then to find a five-year-old son of Narrewal by the Bendigo stallion Directway, named Straight Away (driven by Bendigo reinsman J Lynch), won The Gippsland Handicap at the Gippsland Trotting Club meeting at Morwell in December 1919 (results right).
The Allens must have been patient because the next winner trained or driven by one of them was not until October 1920. At the Boort Trotting Club meeting that month, Straight Away won the handicap of 30 sovereigns over 1.5 miles. They produced another in Tearaway to win the trot of 10 sovereigns.
TEARAWAY'S 33 WINS
Tearaway was a daughter of Straight Away from the un-named mare (Allen's Hambletonian Bell Boy mare), the sister to Narrewal.
Tearaway was incestuously inbred being by Straight Away from his aunt (Straight Away's dam's full sister). Hambletonian Bell Boy appears two-by-three in the pedigree, in the second and third generations.
The three-year-old Tearaway won at Richmond in Melbourne on November 11, 1920, for the Bendigo reinsman J. Lynch. The Association Handicap was worth £100.
Tearaway was on her way to what became an auspicious career. She is credited with winning 33 races over a career spanning eight years, the last as a 12-year-old.
1923 WAS A GOOD YEAR FOR THE ALLENS
In February, Tom won at Boort on Straightly, another son of their stallion Straight Away. Then in October at Boort Tom won with Tearaway.
The Charlton Trotting Club raced on the grass track at the Charlton Racecourse and on October 24 1923 Tom Allen had a memorable day with a driving treble and a training double.
First, the Allen brothers' Tearaway won the Flying of 15 pounds when driven by George. Then Tom drove neighbour Mickey O'Callaghan's Direct Lad to win the Charlton Cup.
Continuing their good fortune, the Allen brothers' Buzzaway, driven by Tom's younger brother Jack, won a race named The District.
To cap off the day Tom drove Miss O'Callaghan's Elsie Mac to win The Purse.
Three days later at Korong Vale, the O'Callaghan owned Elsie Mac won for Tom Allen and a week later Tom won again with Direct Lad for Mickey O'Callaghan at the inaugural Quambatook Trotting Club meeting.
1924 WAS EVEN BETTER AS BROTHERS DEAD-HEAT
The Allen brothers Tom and George dead-heated for a win at Donald in February with Straight Away and his daughter Tearaway. Tom was riding Straight Away off 125 yards and George, on Tearaway, started from 180 yards, 45 yards behind her sire.
Other wins followed in February when Straight Away for Tom Allen at Donald, in March when Tearaway won for Tom at Charlton and on April 12 when Tearaway won twice, driven by Tom at the Inglewood and Bridgewater TC meeting.
On April 16 1924 at Wedderburn they scored another three wins courtesy of Tearaway (Tom) beating Buzzaway (George), George winning on Grey Voyage and Tom with Buzzaway beating George, who was driving Straightly.
It was another memorable day at Wycheproof on October 16 when the Allens filled the first three places in the Novice of £10. Tom first with J Belsarini's Captain Bells, George second on Heroic Voyage and Jack third with Oster Estelle.
In November, Tom won again at Charlton with Tearaway and four weeks later at Donald won with the same horse. That was a total of 12 winners for the year, six of them were with Tearaway.
WINS THEN BECAME SCARCE
In 1925, the only wins found for the Allens were two in March at a Korong Vale meeting. The Korong Vale track, only 660m in circumference, was on the outside of the Korong Vale Recreation Reserve that was used for football, cricket and athletics. Tom won with both Tearaway and Lord Hamble.
The year 1926 was a bleak one, with no records of wins found.
In March 1927 at Korong Vale, Tom won with Tearaway and on April 18 at nearby Woosang he won with Takeaway.
On April 20 at the Charlton St Patrick's meeting Tom won again with Takeaway.
1928 A TASMANIAN WIN FOR MAVIS DIRECT

The results for 1928, the height of the Great Depression, are intriguing, as one of the Allen horses won in Hobart.
Among the Allen's trophies at the Victorian Harness Racing Heritage Collection at Lord's Raceway in Bendigo is a handsome cup (right) inscribed with the name of Mavis Direct.
It is the winning trophy for the 1928 St Patricks Day Cup, run at Northall Park in Hobart. Mavis Direct, by Directway from an Almont mare, was ridden by A.J. Gregg and owned by Tom Allen.
The challenges of transporting a horse from Glenloth to Hobart would have been many. The most obvious way would have been by train from Glenloth to Newmarket in Melbourne, where most stock was offloaded, then by ship from the nearby Victoria Dock to Hobart. No easy task.
When bred from, Mavis Direct left the winners Air King by New Derby and Betty Belmont by David Belmont. Her unnamed daughter by Vin Direct was the dam of another Allen winner in Kings Maid by their sire Kings Gift.
Maternal Line Descendants for Mavis Direct (1921) include Air King (1931, M A83, by New Derby, 2:35.0), Betty Belmont (1943, FA83, by David Belmont, 2:16.4) and Dam Of Kings Maid (1935, FA83, by Vin Direct).
Dam Of Kings Maid in turn produced Kings Maid (194-, A83, by Kings Gift, 2:15.2), Gay Vagabond (1952, A83, by Gay Venture), Rosslyn (1960, A83, by Monds Gift, 2:16.6) and Susilyn (1976, A83, by Fairlane Hanover, 2:09.4, $4,940).
Susilyn in turn produced Pyewachet (1990, A83, by Speed Supreme, 2:04.3, $70,044).
Mavis Direct is the fifth dam of the of the brilliant filly Copper Satin and her sister Sonya Melai. Mavis Direct by Directway, dam of Lassie Direct by Vin Direct, dam of Saint Santa by Raider, dam of Chicota by Prefix, dam of Genex by Gene Direct, dam of Copper Satin by Bon Adios.

Copper Satin, bred and raced by the Conway family of Hopetoun, won the 1978 Tatlow Memorial,
NSW Challenge Stakes, the NSW Tudor Diamond Watch, Pink Bonnet and the SA Golden Nursery as a two-year-old. She won the SA Oaks, Qld Redcliffe Oaks and a heat of the Victorian Oaks as a three-year-old. She was the leading Australian two-year-old pacing stakes winner in 1978.

Other 1928 wins for the Allen brothers included on March 21 in the Charlton St Patricks with Tearaway driven by Tom Allen, on March 30 in the Korong Vale Flying £20 Tearaway with Tom Allen and, later in the day, the 1928 Korong Vale Cup (right) £50 Tearaway, again with Tom.
On April 4, 1928, the Allens scored the trifecta in a race at Wycheproof. The results were 1 Tearaway (Tom Allen), 2 Takeaway (trained by Tom, driven by Ted Glasheen), 3 Buzzaway (Jack Allen).
The only win recorded in 1929 was on October 17 at Charlton when Silver Straight won for Tom.
THE NEXT GENERATION
The brothers Tom, George and Jack had steered all the Allen's winners for more than 19 years.
Around 1930, Tom's sons Tom Jnr (known to all as Tommy) and his younger brother Clarrie commenced riding and driving the Allen's horses in races.
Tom Jnr was the first with a winner. Woosang is a dot on the map on the now Calder Highway south of Charlton. In a seven-horse field at the Woosang sports meeting, Tom Jnr won on Jack Straight.
WOOSANG SPORTS 21-04-1930
DISTANCE - 15 pounds – Nine furlongs
T Allens JACK STRAIGHT, scr (T Allen Jnr) 1
C Scandolera's Little Straight, scr (C Scandolera) 2
P Glasheens Consoler, scr (E Glasheen) 3
Others: Keep Straight (scr), Trixaway (scr), Silver Straight (60yds), Model Voyage (132yds)
Margins: Won by 6yds Time: 3m 38s (WR: 2m 24 2/3s)
It was the only win for the Allen family that year.
1931 saw just one winner, with Tom Snr winning with Silver Straight at Wycheproof.
CLARRIE, 16, WINS AT HIS FIRST RACE RIDE
Minyip is at least 100km from Glenloth. The Allens probably drove a wagon or buggy to Minyip with their entries for the Minyip St Patrick's Day race meeting some days before.
The trip was worthwhile, because on March 17 1932 the 16-year-old future Victorian Harness Racing Hall of Fame member Clarrie Allen had his first race start. He rode Amys Flight, a pacer that he owned. He won, beating his father Tom Snr, who finished second with Slipstraight.
MINYIP ST PATS TC 17-03-1932
BRACELET – 9 pounds – One & quarter miles
C Allens AMYS FLIGHT, scr (C Allen) 1 – First ever ride for Clarrie Allen (16yo)
T Allens Slipstraight, scr (T Allen) 2
F Rice's Antrim Cole, scr (Rice) 3
(Winner trained by T Allen)
Others: Last Principal (scr), Wilmis (scr), Wiltkno (scr), Footstep (scr), Artglobe (scr), Comus (48yds)
Margins: Won by 2 lgths Time: 3m 16 1/4s (WR: 2m 37s)
On the same program, Tom Snr won with his son Tom Jr's Slipstraight in the Novice Handicap.
VIN DIRECT MOVES TO GLENLOTH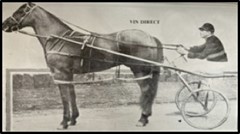 At this time, in readiness for the 1933 breeding season, the Allens acquired the stallion Vin Direct after he had stood an initial Victorian season at Devenish, west of Dookie in the Victoria's Goulburn Valley. He had previously left foals in Western Australia.
Vin Direct (left), by Direct Mauritius from the Willie Whips mare Vin Don, then aged 16, was bred at Northcote by F. White.
He had been an outstanding racehorse having won seven races at Richmond (Vic) and 17 metropolitan races at the WACA in Perth.
His wins included the 1923 Richmond £500 Cup, Richmond Thousand, five heats of the 1925 and 1926 Australasian Championships (the fore-runner of the Inter Dominion) in Perth. He also won at Kyneton, Woodend and at Epping and Victoria Park in Sydney.
The ownership of Vin Direct was somewhat controversial as this article relates.
RICHMOND THOUSAND. VIN DIRECT'S VICTORY
Vin Direct, which won the Thousand Trot at Richmond, has been remarkably successful in important trotting races at Richmond. Last year he won the £500 Trotting Cup.
In both events Vin Direct started from scratch.
The Direct Mauritius horse is owned by a well-known detective, who hides his identity in an assumed name, 'D. Kennedy'.
The same owner was successful in winning the pacers' division of the Trotting Derby last year with Vinmont Chimes. Both Vin Direct and Vinmont Chimes were bought at auction, when their previous owners were disqualified for complicity in what was known as the Satellite Boy case. Vin Direct's best mile rate previously was 2.40, but in winning the Thousand, he travelled at a 2.30 gait, which is a record for the race.
Vin Direct left many good winners, with fast (for that time) records.
Among them were:
Lutana (2:11.0), from the Straight Away mare Blowaway, who won 11 Perth metropolitan races at Gloucester Park (WA);
Dark Vin (2:12), who recorded five metropolitan wins at Ascot and sired 18 winners, including the good metropolitan winner Vin Pronto;
Nice Vin (2:16), won the 1939 Boort Cup;
The Western Australia champion Kolect (2:11.0), who won 20 metropolitan races in Perth (12 at Gloucester Park, six at Perth and two at Richmond Raceway);
Burley Vin (2:07), who was bred and first raced by Ted Glasheen, a neighbour of the Allens at Buckrabanyule. The astute former NSW trainer-driver Hubert Shinn saw the horse win at Charlton and initially leased, then arranged for the purchase of the horse. Under the care of Hubert Shinn, Burly Vin won nine races in succession in 1939. He won 10 races at Ascot (Vic) and five at Wayville in Adelaide.
In 1934, the Allens won just one race. Smiling Derby won at Stawell when driven by Tom Snr. Bendigo school teacher and trainer/driver D. George (George Daniel), later trainer of the champion galloper Sailor's Guide, finished third with Prince Pirate.

1935 saw just two wins: Captain Straight won at Minyip and Smiling Derby won at Boort. Both were reined by Tom Allen Snr.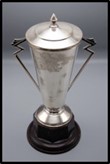 1936 at the Charlton A@P Show, Air King was judged Best Pacing Stallion. The trophy (right) is with the Allen collection at the Victorian Harness Racing Heritage Collection at Lord's Raceway, Bendigo.
DROUGHT DRAMATICALLY EFFECTS FARMING
In the 1930s farming in the North-Central area of Victoria was a precarious business as dry weather dominated.
Conditions deteriorated in 1937 over New South Wales, Victoria, much of Queensland and parts of Western Australia. Isolated parts of southern Australia had record-low rainfall.
Despite 1938 being a La Niña year, conditions worsened substantially. Drought intensified in New South Wales and Victoria. It also spread to eastern South Australia and the grain-growing areas of south-west Australia.
In Victoria, an extremely dry six-month spell started in August. Forests became tinder-dry, leading to the disastrous Black Friday bushfires of January 1939.
The Allens continued to train horses and race them, although race meetings were scarce and prize-money much diminished.
In 1935 Kazan and Captain Straight won for Tom Jnr, with Stylish Vin and Smiling Derby trained by his father Tom Snr winning twice.
In 1936 Tom Snr won with Smiling Derby at Wycheproof, while Tom Jnr scored a double at the March St Pats meeting at Minyip with Gallant Derby and Stylish Vin.
Some time after 1936, the Allen family succumbed to the drought, abandoned their farm and moved to nearby Charlton. They took whatever work was available. Tom Jr worked at the Charlton Flour Mill and the nearby Charlton quarry, while Clarrie cleared channels and dams with a team of up to 50 draught horses.
ELEVEN-YEAR HIATUS
The 1936 wins appear to be the last winning drives for Tom Jnr until 11 years later in 1947 when he won at Stawell and Boort with Stylish Vin.
Stylish Vin was owned by Watchem farmer Alex Lang. Lang trained and drove but is better known as the father of Hall of Fame trainer and driver Graeme, and grandfather of Hall of Famer Gavin and remarkable trainer of trotters Chris.
In 1937 Air King won at Wycheproof for Tom Snr, who also win in 1938 with Nice Vin at Charlton.
During 1939, Vins Choice, owned by A. Reading of Marnoo, won twice for Tom Snr at the St Pat's meeting at Minyip. In the second heat he beat a field that included Alf Simons from Woosang and Tom Taylor from Castlemaine, both later to become prominent in Victorian metropolitan trotting.
Australia entered World War II in September 1939. Racing continued under some limiting restrictions.
In 1940, Vin's Choice won twice for Tom Snr at Ararat and Marmal (between Charlton and Boort), with Tom Snr winning with Tom Jr's Design Gift.
METROPOLITAN WINS BEFORE ASCOT CLOSED
It is believed that Tom Snr and his wife Ann moved to Flemington at about this time and trained at the Ascot track on Epsom Rd, or the cinders track west of the Dudley Flats on Footscray Rd, beside the Maribyrnong River.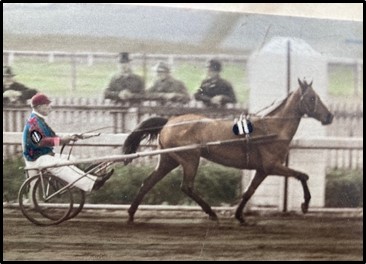 Tom Snr won with Globe Lad at Ascot in 1941 and in 1942 he won twice with Vins Gift (right) at Ascot on July 25 and again on August 29. This may have been the last win ever recorded at Ascot.
The intensification of World War II in 1942 placed further restrictions on race meetings throughout Australia. Ascot was not spared.
A short newspaper article in September 1942 advised the racecourse was "required for other purposes" and would not be available for race meetings during the war.
The Age, Monday, September 14, 1942: RACING CEASES AT ASCOT (by Tasman)
The Ascot racecourse, upon which for so many years the Victorian Trotting and Racing Association (V.T. and R.A.) has conducted its meetings, will not now be available for such purposes, making the fourth metropolitan course so affected.
The secretary of the V.T. and R.A. Sir Gilbert Dyett said yesterday it would be necessary to call his committee together and to obtain contacts before giving any opinion concerning the locality where future race meetings of the association would be staged.
he next Ascot meeting was not until November 21, the Cup fixture. There was ample time, therefore, for consideration and negotiation.
On the question of trotting, Sir Gilbert Dyett said the meeting scheduled for Saturday next had been abandoned, and it was a matter for those interested in the sport to suggest some alternative course for such events. One of the main difficulties would be the provision of a cinders track, such as that at Ascot, on which the horses had been accustomed to race.
t present, there are only three courses in Melbourne for racing purposes — Flemington, Moonee Valley and Mentone.
With the V.R.C. and V.A.T.C. meetings, and part of the Williamstown fixtures, Flemington has considerable demands upon it, and the general opinion at present appears to be that Mentone might be the course on which V.T. and R.A. trotting fixtures will be held.
NIGHT TROTTING GOES AHEAD AT THE ROYAL MELBOUNE SHOWGROUNDS
Since 1936 attempts had been made to pass a Night Trotting Bill in the Victorian Parliament. The United Country Party continually opposed the Bill. It took until 1946 for the bill to be again tabled and by a close and controversial vote it was passed.
The Argus newspaper announced: NIGHT TROTTING FOR VICTORIA
MELBOURNE, Sat.— Legislation will be introduced into the State Parliament before the end of the year to provide for night trotting for Victoria.
Trotting will be held at the Showgrounds which is regarded by the Government as the only suitable location for the sport. Betting will be permitted and the tote probably installed: Government's Bill will also provide for the setting up of an authority to control night trotting.

A PRODUCTIVE MONTH WHEN SHOWGROUNDS TROTS COMMENCE
By the time night trotting at the Royal Melbourne Showgrounds opened in 1947, the whole of the Allen family had moved their training base to Ascot Vale to join Tom Snr, who had been living nearby at Flemington.
The first four weeks of racing under lights at the Royal Melbourne Showgrounds proved to be very productive for them.
On opening night, November 15, 1947, in the historic first race under the lights, Tom Jnr narrowly missed being the first to drive a winner, when New Marvel finished a close second to Whyalla, driven by Des Mann. Tom Snr narrowly missed in the second race when his drive Winn Echo was placed second.
The next Saturday night, November 22, the same two horses were entered and the Allens had their first Showgrounds winner. New Marvel (New Derby – Brandon Bells) won race one, driven by Tom Jnr. His brother Clarrie drove Winn Echo into fourth place in the sixth race.
At the Third Meeting, on December 6, they entered three horses and each ran third. Third places went to New Marvel in race one with Tom Snr, Lady Vinda in race two with Tom Jnr and Winn Echo in race seven with Clarrie.
The fourth meeting on December 13 was just as productive, with Tom Snr collecting a third in race one, Clarrie winning race two with Winn Echo, and Tom Jnr driving Shy Lulu, owned by his brother George, into third place in race four.
For the first four meetings at the Showgrounds, the four horses raced by the Allens all collected stake money: New Marvel 2nd, 1st, 3rd and 3rd; Winn Echo 2nd, 4th, 3rd and 1st; Lady Vinda 3rd; and Shy Lulu 3rd. A total of two wins, two seconds, five thirds and one fourth for the four-horse team for the 1947-8 season that ran from November 15 to May 1, just short of six months.
The total number of wins for the Allen trio for the season were Tom Snr two, Clarrie six and Tom Jnr three. It was a promising start to their bold metropolitan venture.
GAY VENTURE
The Raider colt, Gay Venture, was the last of Tom Allen Snr's top class horses. Foaled in Tasmania in 1946 he commenced racing as a three-year-old in 1950 when he had seven starts for three wins. He ran second in a heat of the Victoria Derby but was unplaced in the final.
As a four-year-old in 1951 Gay Venture had nine starts for seven wins, including six in succession, and one second.
Stephen Spark, Bendigo historian, has researched and recorded career records of significant pacers and trotters for more than 30 years. His career chart for Gay Venture's four-year-old season follows:.
1951: 9: 7-2-0
16/12/50: 1st - Scr (Geelong), Breakwater Open Stakes 2nd Div 9f, C. Allen, MR 2:16.0.
15/1/51: 1st - Scr (Woodend), Woodend Hcp 2nd Div 10f, C. Allen, MR 2:20.8.
22/1/51: 1st - 36 yds (Geelong), Barwon Hcp 2nd Div 11f, C. Allen, MR 2:17.8.
24/1/51: 1st - 24yds (Healesville), Park Hcp 10f 55yds, C. Allen, MR 2:14.8.
24/2/51: 1st - 24yds (Shepparton), City Hcp 10f, C. Allen, Time 2:51.5.
3/3/51: 1st - Scr (Echuca), Echuca Jubilee Cup 11f, C Allen, MR 2:13.75.
10/3/51: unplaced - (Charlton), Charlton Hcp 10f, 144yds.
9/5/51: 2nd - 36yds (Terang), Meadow Stakes 10 1/2f.
29/6/51: 1st - 12yds (Geelong), Highton Hcp 10f, C. Allen, MR 2:21.2.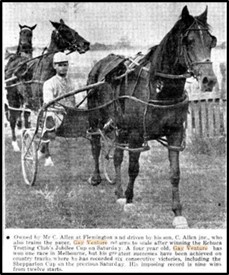 Gay Venture (left) was lightly raced, and when retired in 1954 had recorded 19 wins from just 37 starts.
Among his wins were the 1951 Echuca Jubilee Cup, the 1952 Geelong Cup and a handicap win at Harold Park in Sydney.
He was driven in 18 of his wins by Clarrie and once by Tom Allen Snr.
Gay Venture served mares that were brought to the Allen stables in Ascot Vale, and for a time he mixed racing and stud duties.
He sired 20 winners including Trotman, who won five at the Showgrounds. He is also the dam-sire of 13 winners including Ians Idol, who won the 1969 Ouyen Cup and Northern District Championship.

CLARRIE ALLEN
Clarrie and his family had first moved from Charlton to Woodend. He worked with Ron Males at the Meadowbrook Stud, a model training and breeding property set up by the Abraham brothers Harry and Frank.
But Clarrie found the cold and often wet Woodend climate much different to that of Charlton and after a short time moved to Clayton, where he worked for successful trainer-driver and later Victorian Harness Racing Hall of Fame inductee Jack Barron Jnr.
He then set up stables at Ascot Vale, in close proximity to those of his father and Tom Jnr.
Clarrie was engaged as a regular driver for the wealthy owner/trainer Clarrie Mance. Mance had started the shoe company Windsor Smith after making cycling shoes. He chose the name, according to family folklore, because he wanted to make shoes "good enough for the Windsor royal family" and "cheap enough for the Smiths".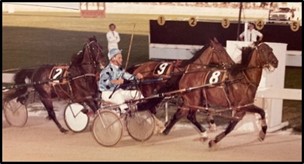 Coinciding with the commencement of night trotting, Mance went into full-time training and bought and trained many horses including Rich Dale, Requisite, Receiver, Tranquil Scott, Black Duck, Feasting, Smokedash (pictured winning at the Showgrounds with Clarrie Allen in the sulky) and Supreme Report.

Clarrie had an Indianapolis mare Sylphide which he held in such high regard that it was reportedly the only horse portrait in Clarrie's home in Doncaster St, Ascot Vale. Sylphide's winnings from races and particularly from bookmakers significantly funded the purchase of the house.
Clarrie's driving record shows remarkable consistency, as he usually finished among the leading five drivers each season. He won the driving premiership in 1961/62.
The Melbourne season was still just over six months. Racing closed down from June to the end of September, and limited the opportunities to win races like today's leading drivers.
Clarrie's total number of winners in Melbourne of 172 might not seem great by today's standards, but back then it was quite an achievement.
Most of the winners he drove he also trained. Among his most successful pacers were Requisite, Tarport Song, Blazing Arrow, Ariki Whero, Joyoro, Moon Reveller (on who he won the 1971 Victorian Derby), Tranquil Scott, Smoke Dash, Dean Reveller and the smart Border Luck.
Many of his winners were for the Rutherglen farmers F. and J. Olcorn and their farm manager George Taaft. In partnership, they bred from the un-raced Stormyway mare Winter Fair, a half-sister to Ariki Whero.
This breeding partnership produced the metropolitan winners Moon Reveller (Victoria Youthful Stakes and Victoria Derby), Train Fair, Winter Set, Winter Thor, Dean Reveller (Victorian Youthful Stakes) and Lee Reveller, all trained by Clarrie.
Clarrie cut back on his commitments in 1980 when he moved to stables in the Goulburn Valley, before later moving to train several horses from Junortoun, near the Bendigo track.
He battled with cancer until passing away in the Tatura Hospital at the age of 67 in 1984.
Clarrie was inducted into the Victorian Harness Racing Hall of Fame in 2017.
TOM ALLEN Jnr
Tom Allen Jnr moved to Melbourne just before the opening of the Showgrounds trotting with his family, including sons Kevin, Jim and Lewis.
Kevin had been at school at the Charlton Consolidated School. and completed eighth grade at St Brendan's in Flemington before leaving school aged 15 to work for his father.
Horses that Kevin helped Tom Jnr with included Mallee Ayr, who won five races at the Showgrounds. Tom Jnr had the good winners Kings Venture, Kings Maid, Top Beam, Cheerful Jack and Chief Cloud (five wins at the Showgrounds).
Turfmaster was another that won at the Showgrounds, including a controversial race in 1954 when he narrowly won from Mitcham Lad, driven by brother Clarrie.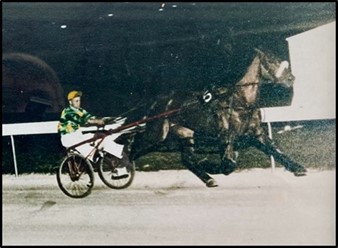 The Argus, Monday March 1, 1954, reported:
TROTTING Control Board stewards on Saturday night asked C. Allen driver of Mitcham Lad, "why he did not go" when Turfmaster (pictured), driven by his brother T. Allen Jnr., raced to him a lap and a half from home. Turfmasler (10/1) won thc Shenfield Handicap by a yard from Mitcham Lad (5/4 fav.) with Rasponi (33/1), 20 yards away third.
T. Allen Jnr. stole a march on drivers of the other runners when he pulled Turfmaster away from the fence and dashed around the field to take the lead as the field raced down the back straight prior to the bell lap. Before his dash Turfmaster was travelling well in fifth place behind Bert's Luck, Bannockburn, Dalia Machine and Mitcham Lad.
C. Allen did not send Mitcham Lad after Turfmaster when he dashed round the field but preferred to wait until the last three furlongs before making his run.
When C. Allen asked Mitcham Lad for an effort he quickly raced up to within a length of Turfmaster and was gradually bridging the gap when the post was reached. With a few more yards to travel Mitcham Lad would have beaten the winner.
C. Allen told stewards that when Turfmaster dashed around the field it was too far from home for Mitcham Lad to make his run.

Sarwatte (Lawn Derby – Prarie Moon) was another Showgrounds winner who Tom Jnr had. Among his wins was the 1953 Turner Handicap.

After moving to Bendigo in the late 1960s and training on the North Bendigo Showgrounds and at the Sebastian track, Tom Jnr had among his team the smart pacers Vivkay, Conkay and the good trotter Rosearde, who won in Melbourne and also won the 1978 Kilmore Trotter's Cup.

Tom is credited with advising fellow Sebastian trainer Graeme Johannsen to switch a somewhat reluctant young True Duane – Romanda pacer to the trot. His opinions about the switch of gait and the necessary shoeing adjustments enabled the horse named True Roman to embark on the road to becoming a champion. True Roman won 73 races including 35 at Moonee Valley.
Tom was tragically killed in a level-crossing accident at Sebastian in 1983.
GEORGE ALLEN
George worked at Ascot Vale for a number of trainers. He worked for Clarrie Mance for six years when Mance had Requisite, Rich Dale, Supreme Report, Black Duck, Feasting and Receiver.
THE THIRD GENERATION
Grandsons of Tom Allen Snr who trained and drove were:
Valden and Adrian, sons of Clarrie
Valden, before passing away prematurely in 1974, recorded wins with horses he trained including Ring Oro, Voltage Control and Winter Thor. He drove Dean Reveller to win the 1974 Victorian Youthful Stakes the year he passed away.
Adrian, now aged 76, when reflecting about his short career as a driver, noted that he was always third in line behind his father Clarrie and brother Valden, so he started to work at age 16 as a bookmaker's clerk for his next-door neighbour in Doncaster St, Ascot Vale. This led to a career in which he worked as a bookmaker's clerk at trotting and galloping meetings and sometimes at greyhound racing. He drove 11 winners, most at non-TAB meetings such as Ararat and Wangaratta.
Kevin Allen, son of Tom Jnr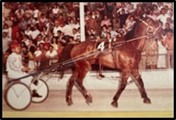 Kevin married Marlene Harrison after meeting her at the night trots at the Showgrounds. They moved to Bendigo where they still live. Kevin trained from Eaglehawk and Sebastian while employed by the Victorian railways. He trained only one or two at a time, but was able to win many races. Among the winners were Pams Return, James Ardri, Say Hi, Court Command, Brian Dale, Lord Revonah, Vivanover, Mount Akeley and Showmanship. Kevin developed the good trotter Jigs And Reels, a son of Delvin Dancer (left) which after winning at the Showgrounds was sold to the USA where he became the first Australian trotter to break the 2:00 mark. His complete record was 22 wins, 20 seconds and 30 third placings for $120,072.
Lewis Allen, son of Tom Jnr
Before he was killed in a level crossing accident, Lewis worked horses from his property in Sebastian and added to the family record by driving a winner at Leeton in NSW.
Family losses
The Allen family suffered a number of tragic events.
Tom Snr and Ann's eighth and final child Lewis was born and died in 1927.
Their fourth child, Gordon aged 24, was killed in a training accident at Manumbar in Qld while a member of the armed forces during World War II.
Tom Snr passed away aged 74 in 1965 in Flemington.
Valden, son of Clarrie, who had worked with his father, but had also trained and driven on his own account passed away in April 1974 from cancer, the same year he won the Victorian Youthful Stakes with Dean Reveller.
Tom Jnr and his son Lewis were tragically killed in 1983 when their utility with horse float attached was struck by a passenger train from Swan Hill at a level crossing at Sebastian where they stabled.
Clarrie cut back on his commitments in 1980. He battled with cancer until passing away in the Tatura Hospital at the age of 67 in 1984.
BREEDING ON
There are many well-known horses who descended from Allen-bred horses.
Their original sire Straight Away, foaled in 1913, by Directway USA from Narrewal, was the sire of 22 and dam sire of 21.
Tearaway, by Straight Away from Narrewal, by Hambletonian Bell Boy from Darkie, by Panic, was the winner of 33 races.
Main Derby, by New Derby from Tearaway, by Straight Away from Allen's Hambletonian Bell Boy Mare, by Hambletonian Bell Boy from Darkie, by Panic.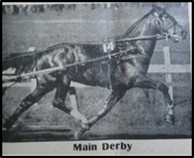 Main Derby (pictured) was a free-legged pacer bred by Tom Allen Snr, then owned by Cyril Balding of Boort. He won the 1937 Boort Cup, then won 11 races at Ascot (Vic) when raced on lease by veteran trainer-driver Alf Butcher. Butcher took up the purchase option before going to the 1940 Perth Inter Dominion where he recouped the purchase price of £500 during the series.
Butcher must have been confident that he would do well in Perth considering he waited until the horse was a seven-year-old and had won 17 races before taking up the option to buy.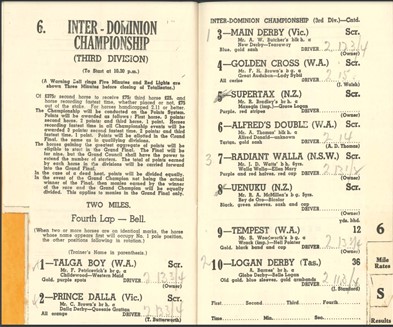 Main Derby won three Inter Dominion Heats, one in 1939 in Tasmania and then two in 1940 in Western Australia (left). His career was 23 wins (17 of them metropolitan wins), 11 seconds and 10 thirds. He was driven in 21 of his wins by Butcher.
He sired 28 winners including the 10-time Showgrounds winner Main Spring and Jocasta, the dam of Seb Moulton's classy trotters Apepa, Jocas Boy, Lady Caprice, Uncanny and the two-time V. L. Dullard Cup winner Tamboritha.
The brilliant Gordon Rothacker-trained Raiarmagh Pool was by the Tasmanian sire Raiarmagh, from Main Pool, a daughter of Main Derby.
The WA star of the early 1950s Scotts Way, winner of 15 metropolitan races in Perth, started his career at Woodend for owner/trainer E. Earnshaw. He was the son of Noble Scott and the Straight Away mare Golden Way.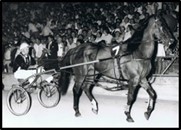 Dainty's Daughter (pictured), the WA champion mare, was a 1963 daughter of Scott's way. Straight Away is in the third generation of her pedigree.
Simpsonic was the champion two-year-old for Neville Gath and later winner of 16 at the Royal Melbourne Showgrounds. His fourth dam is the mare Northway, by the Allen's stallion Vin Direct from Tearaway (33 wins), by their stallion Straight Away.
Super Spree was the 1981 triple Trotters Derby winner (SA, NSW and Vic) and 1981 Australian Trotter of the year. His fifth dam Straight Bells is by Straight Away from the Allen foundation mare Darkie.
Stormy Meadow was the winner of 10 trotters' races at the Royal Melbourne Showgrounds including the 1974 V L Dullard Cup and the 1973 Shepparton Trotters Cup. Stormy Meadow is by Meadow Vance from Lady North, by Noble Scott from Northway, by the Allen's stallion Vin Direct from Tearaway, by Straight Away.
The A83 family continues to produce fast pacers including Box Of Chocolates (1:51.5), Bendigo track record-holder. Her ninth dam is Allen's Tasmanian winner Mavis Direct by Directway from Thompson's Almont mare. A Classic winning trotter from the family was Henry McDermott's Frosty Vee Bee (T 2:04.5, $110,830).
The 2021 South Australian Trotters Derby winner My Used To Be (T 2:03.3) traces to Mavis Direct (by Directway) through her daughter Lassie Direct by Vin Direct.
The A61 family of Darkie produced Stunin Girl (1:54, $123,625), winner of the 2009 NSW Pink Bonnet and 2010 APG for three-year-old fillies. She is an Art Major mare from Wemen Wendymae by Western Hanover. Wemen Wendymae's eighth dam is the mare Tearaway by Straight Away from Allen's Hambletonian Bell Boy mare (A61).
The NSW mare Three Dee Delight (1:51.2, $240,718), exported to the USA, is a half-sister by Always a Virgin to Stunin Girl.
The Allens bred Lady Venture (A63), by their sire Vin Direct from an un-named Directway mare.
Lady Venture's daughter Inez Derby by Van Derby left Free Lass, the dam of Lynmont, the 1966 Victorian and South Australian Oaks winner for Bendigo's Ken Wills.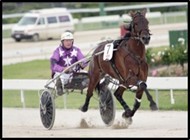 Remarkably, Lynmont's grand-daughter has become the source of some of Australia's best trotters.
Fionas Flair (T 2:02.8, $79,634) is the dam of A Touch Of Flair (T 1:52.9, $569,193), Down Under Muscles (T 2:01.2, $215,935) and Mighty Maori (T 1:55.1, $265,305). Pictured is A Touch Of Flair, driven by Russell Thompson.
Fionas Flair's daughter Petite Flair is the dam of Son Of Flair (T 1:56.1, $257,909). Her grand-daughter Solar Flair is the dam of Andover Sun (T 1:57.8, $93,740) and Sangreal (T 2:00.3, $77,110).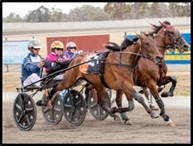 Another daughter, Gypsy Flair, is the dam of Australian two-year-old filly trotter of the year Banglez (pictured, T 2:01.9, $96,900) and the 2021 Breeders Crown two-year-old filly trotter Just A Bit Touchy (T 1:59, $61,980 from just six starts).
Some 110 years since the Allen brothers of Glenloth bred, owned and trained their first winner Narrewal, the families they established are still producing horses that race at the highest level.
Sources:
Publications:
Stallions: Nick Hooper
The Trotting Annals of Bendigo and Environs: John Peck.
Australian Trotting Stud Book Sires Index 1869-1960, Australian Trotting Council
First Past the Post: Daryl Poxon
Australia's Trotting Heritage: Max Agnew
Online resources:
www.classicfamilies.net
www.harness.org.au
Bendigo Advertiser: https://trove.nla.gov.au/newspaper
Bendigo Independent: https://trove.nla.gov.au/newspaper
Thanks to:
John Peck for his historic race records.
Brian Harrison, great-grandson of T. L. Hamling, for information re: Hambletonian Bell Boy and T. L. Hamling.
Stephen Spark, Bendigo, for detailed and accurate career records of important horses.
Kevin Allen and Adrian Allen, for information about their family and the family horses.
Fr Brian Glasheen, for information regarding the Glasheen–Allen families.
READ MORE HARNESS HISTORY:
Stunning online trots collection immortalises harness racing heroes
Trots History: The Bendigo Jockey Club Open (Part 1) - Gold
Trots History: Bendigo Jockey Club Open (part 2) - Boom times
Trots History: Bendigo Jockey Club Open (part 3) - Hall of Famers
Trots History: Bendigo Jockey Club Open (part 4) - The final quarter
Harness history: The famed pacer Gyro who was a '60s sensation
Story of a soldier's service, sacrifice and trotting excellence on Anzac Day
Belmont Stud's Grand history shared ahead of Hall of Fame
Noel Ridge on the man behind the Adelaide Hill stud farm that changed the trots landscape
Bendigo memorabilia a gateway to John Phyland's story from sheep to stallions
Anzac Day special: The digger and trainer who would conquer two racing codes