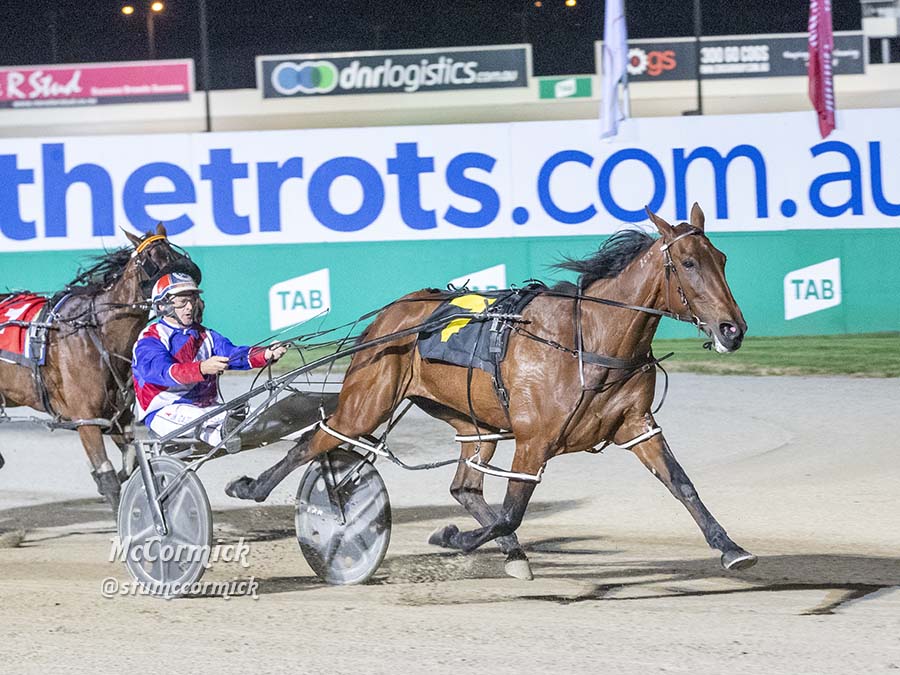 There was a twist in the tale with tonight's Breeders Crown finals finishing with a surprise as No Win No Feed ripped to the front from gate seven and then held all challengers for a resounding win.
The Nutrien Equine Breeders Crown Championship would have surprised many speed maps as John Caldow rattled from the gates in his maiden drive of Craig Cross's four-year-old mare, which would prove a decisive move in the Group 2 win.
"She's a wonderful mare and when I got the opportunity to jump on her tonight I thought I might surprise a few and find the front," Caldow said. "I didn't think they'd expect me to do what I did."
No Win No Feed got the jump on favourite Miss McGongall with her early zip, with James Herbertson settling for leader's back and then Caldow was able to dictate the pace, getting a breather with a 31.5-second first quarter.
Chris Alford loomed to the breeze on Our Princess Tiffany and made his challenge, but No Win No Feed had all the answers, getting home in a 55-second last half to win by five metres.
Matt Craven's Itzamajorsurprise ran into second, with Our Princess Tiffany finishing third.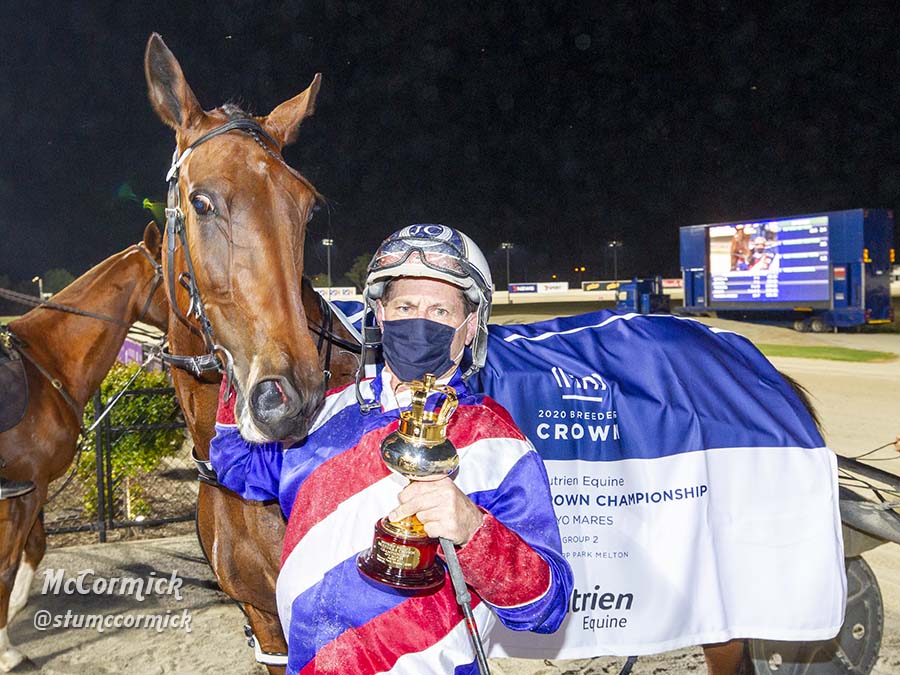 "She just burns and drops the bit, so you can do what you want to do and rate it how you want," Caldow said of the winner.
"When Chris came around I thought we'll get rolling again. She had an easy enough first half, so I was just hoping the early burn didn't take the edge off her.
"They're good mares, they just keep going. When you drive these good horses they just do their best and keep trying their hearts out like she did. The last 100 she was putting her head between her chest and she'd had enough but she kept running."
RELIVE THE GROUP 1 WIN:
MORE FROM BREEDERS CROWN FINALS NIGHT:
>> Race 1: Harley holds off Lochinvar Art in epic battle
>> Race 2: Tricks but talent as Darkness lights up
>> Race 3: Lee's flawless drive delivers Jack a Crowning glory
>> Race 4: Majestic result as Snooze cooly sweeps by​​​​​​​​​​​​​​
>> Race 5: Major Group 1 moment for Damian and Len
>> Race 6: Sweet finish to Sugars' driving dramas
​​​​​​​​​​​​​​>> Race 7: Zeuss brings the thunder early and late
>> Race 8: Red letter day for this brilliant lady​​​​​​​
>> Race 9: "Just awesome" as Maree claims thrilling Crown
>> Race 10: Caldow feeds on early speed to win​​​​​​​
>> CEO Dayle Brown joins Rob Auber on Trots Vision​​​​​​​
​​​​​​​