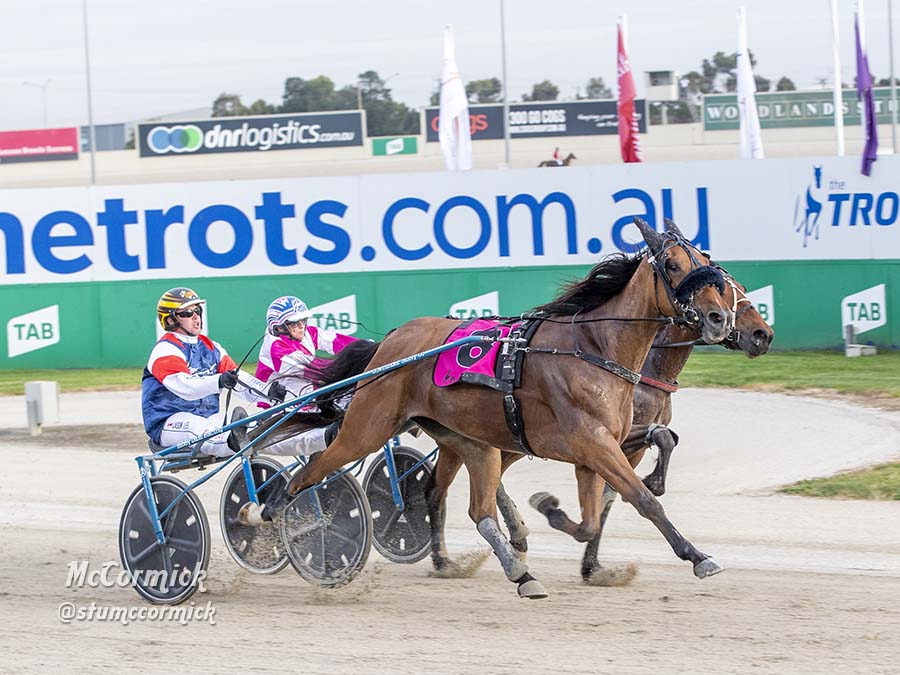 Jason Lee and Jack MacKinnon had plenty of reason to smile after Im Ready Jet secured their first Breeders Crown title and first Group 1 respectively.
An outstaning Lee drive helped capture the Catanach's Jewellers class for three-year-old trotting fillies, a very satisfying result for co-trainers Anton Golino and MacKinnon, Pat Driscoll's Yabby Dam Farm and Lee himself.
"Huge thrill to win a Breeders Crown," Lee told Trots Vision. "Grew up as a kid coming with Nana and Pop and Mum and all the uncles and watching these races and it's just awesome to be able to win one.
"Obviously pretty great to be able to give Jack MacKinnon his first Group 1 winner in partnership, really happy for him and obviously Pat (Driscoll) and Anton and all their staff do a great job and I'm thankful for the opportunity."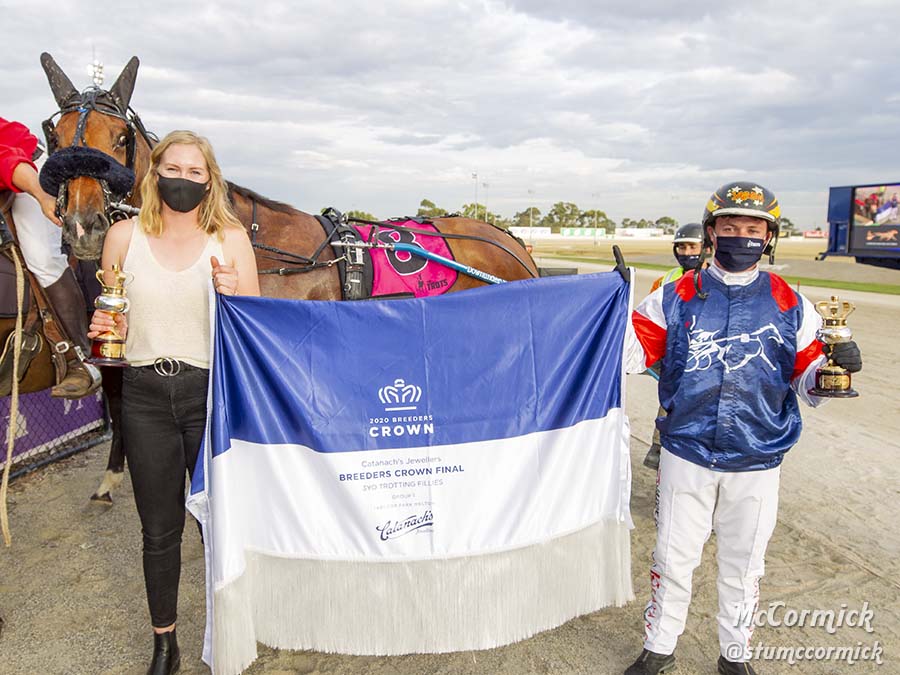 He certainly rewarded their faith, taking advantage when stablemate Imamaorijet galloped at the start from gate four, which enabled Lee to slide off leader's back and into the running line.
He then advanced to the lead and sustained pressure from Sofia Arvidsson's front-running Aldebaran Tess to set up the win, holding off swooping Ofortuna (second) and Queen Of Crime (third).
"She was a bit of tactical one," Lee said. "I was just worried if I stayed on the fence that one of the other ones may have come and seeing how they raced in their heats they were pretty strong, they may have put it to Matty and been able to cross him.
"I just wanted to try and stay in front of them. It's probably one of those, if it comes off it looks great, if it didn't it's going to look a bit silly. Thankfully it came off and she was good enough and ran a great race."
RELIVE THE GROUP 1:
MORE FROM BREEDERS CROWN FINALS NIGHT:
>> Race 1: Harley holds off Lochinvar Art in epic battle
>> Race 2: Tricks but talent as Darkness lights up
>> Race 3: Lee's flawless drive delivers Jack a Crowning glory
>> Race 4: Majestic result as Snooze cooly sweeps by
>> Race 5: Major Group 1 moment for Damian and Len
>> Race 6: Sweet finish to Sugars' driving dramas
​​​​​​​>> Race 7: Zeuss brings the thunder early and late
>> Race 8: Red letter day for this brilliant lady​​​​​​​
>> Race 9: "Just awesome" as Maree claims thrilling Crown
>> Race 10: Caldow feeds on early speed to win​​​​​​​
>> CEO Dayle Brown joins Rob Auber on Trots Vision​​​​​​​