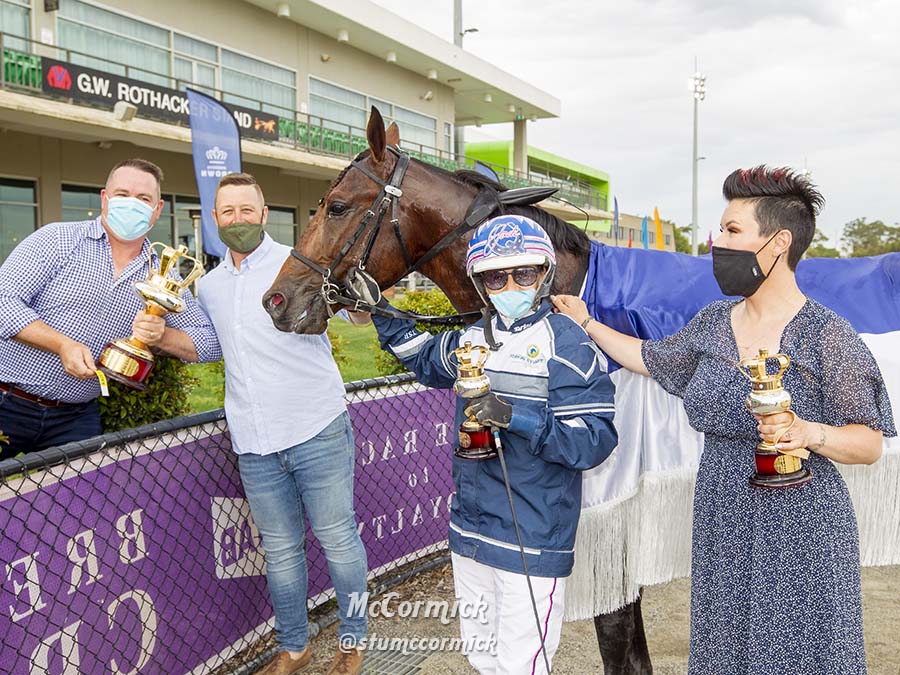 One Group 1 down and one in the bag for trainer Emma Stewart after Cover Of Darkness overcame some pre-race mischief to unleash his elite talent.
The Majestic Son colt, bred my Martin and Kaye Hartnett out of dam Illawong Moonshine, proved a handful for reinswoman Jodi Quinlan, but she knows the breed well and guided Cover Of Darkness to the Catanach's Jewellers 3YO colts and geldings trotting title on TAB Breeders Crown finals night.
Cover Of Darkness led all-the-way to score, sustaining pressure throughout from Powderkeg and then holding at bay late charges by Chris Lang's Red White An Bloom (second) and Patrick Ryan's Cracker Jet (third).
"He's still got a lot to learn but he's very good," Quinlan told Trots Vision post-race.
"He had me concerned, I thought I was at the show on the Mad Mouse. He started off kicking in the parade yard, nearly kicked my heel, and then in the warm up he went out on the track and just kept bucking and kicking.
"I let him bowl really solid for three laps after that and thought I better pull him up and hope he's not tired. After that he was OK. Going up to the gate I was just hoping he didn't buck."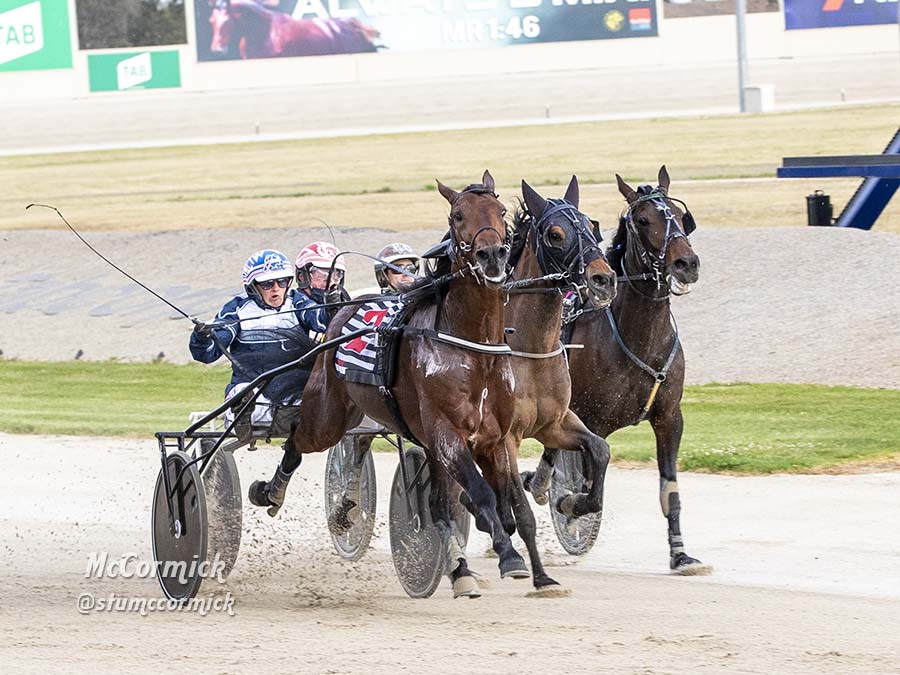 He didn't getting away superbly from gate two to lead in a 44.9-second lead time, then holding all comers at bay in a 58.1-second last half.
"Credit to Clayton and Emma, this horse has come from nowhere," Quinlan said. "First time I drove him at the trials he was very good but very naughty. He hung and hopped and he's not the most fluent gaited horse - he's not the easiest horse to drive. I've gotten used to him a little bit and you have to go with him, the more you upset him the worse he is.
"He's not as seasoned as some of those horses tonight and that was the only question mark over him, but he's always given the feeling that he's very very strong. Going forward he should keep getting better."
It was a terrific group for Cover Of Darkness big loyal group of owners, some of whom mate the trip to Tabcorp Park to savour the result.
RELIVE THE GROUP 1 WIN:
MORE FROM BREEDERS CROWN FINALS NIGHT:
>> Race 1: Harley holds off Lochinvar Art in epic battle
>> Race 2: Tricks but talent as Darkness lights up
>> Race 3: Lee's flawless drive delivers Jack a Crowning glory
>> Race 4: Majestic result as Snooze cooly sweeps by
>> Race 5: Major Group 1 moment for Damian and Len
>> Race 6: Sweet finish to Sugars' driving dramas
​​​​​​​>> Race 7: Zeuss brings the thunder early and late
>> Race 8: Red letter day for this brilliant lady​​​​​​​
>> Race 9: "Just awesome" as Maree claims thrilling Crown
>> Race 10: Caldow feeds on early speed to win​​​​​​​
>> CEO Dayle Brown joins Rob Auber on Trots Vision​​​​​​​