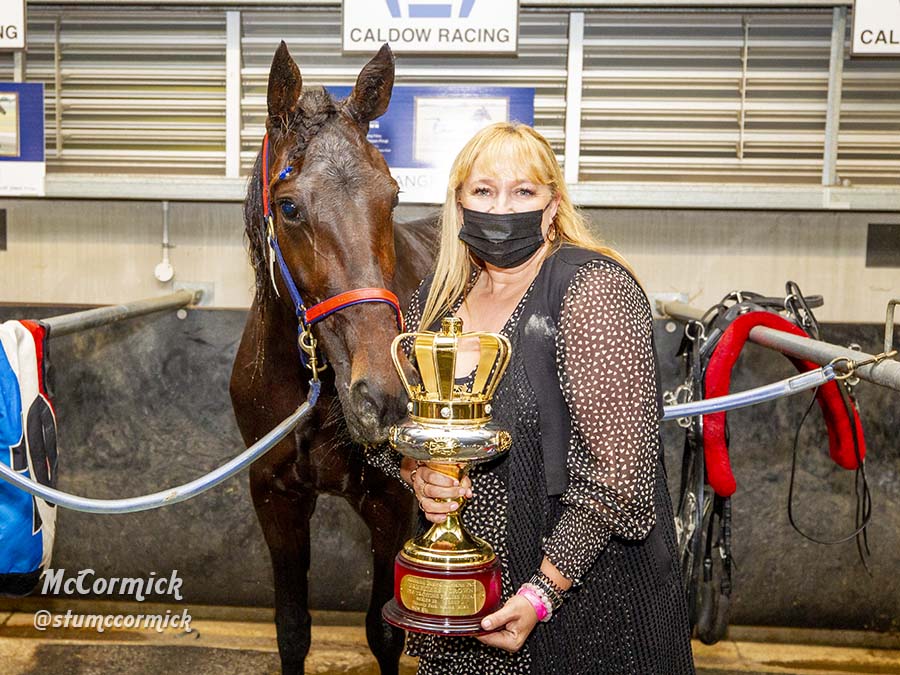 Maree Caldow has the holy grail in her hands after Sangreal captured an eventful Aldebaran Eagle @ Aldebaran Park two-year-old fillies' title on Breeders Crown night.
The trainer and Trots Vision trackside host Rob Auber couldn't help but think there was a little divine intervention involved in the surprise win, with reinsman Daryl Douglas flashing home late to nose ahead on the line and claim the Group 1 crown.
It was a performance reminiscent of late reinsman Gavin Lang, a close friend of Maree and John Caldow, whose outstanding career was celebrated tonight.
"If we had a little (divine intervention) tonight, well, thanks Gav, I know you love us," Maree told Trots Vision. "We love you and we miss you. This is just awesome."
The script was thrown out from the outset when $1.80 favourite Mexicana galloped out of contention at the start, which enabled Queen Elida to comfortably lead.
There was little movement in a moderately run affair until Queen Elida spaced her rivals heading into the final turn, but she tired with 100 metres to go.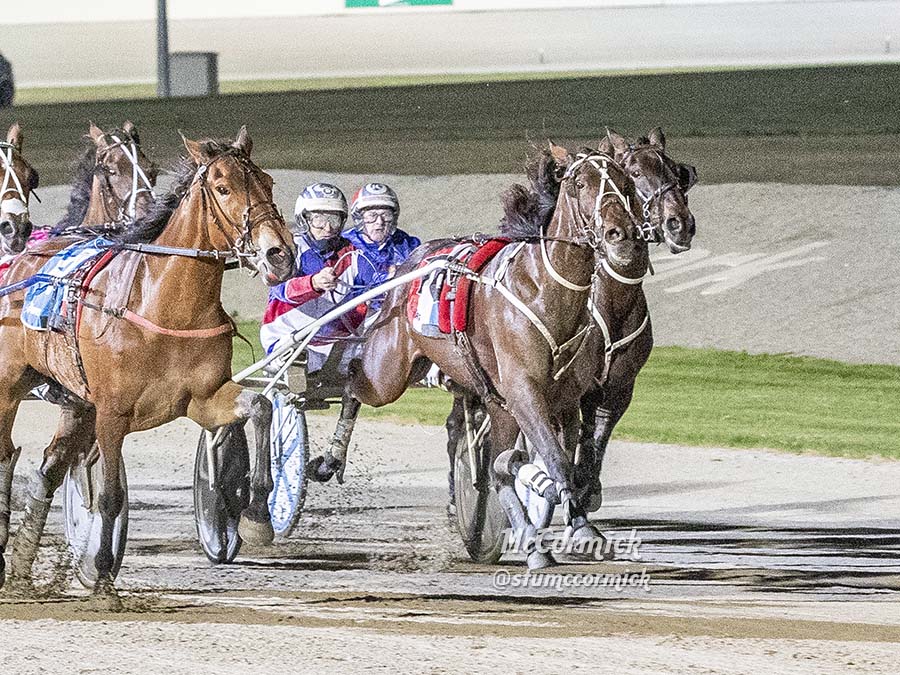 Triple-figure chance Thats Not My Gait then looked set to pinch it for Josh Duggan, but Douglas came from the clouds on Sangreal to nose ahead in the final stages and win, with Chris Lang's Evas Image beaten into second by a neck.
Maree dedicated the win to her fellow owner-breeders of the filly, who's by Father Patrick out of Solar Flash.
"I'm just so grateful," she said. "Denis and Vali (Hall), Chris and Allan Spalding, we bred this horse together. They've been long-time clients of ours. I'm just so proud.
"To get two horses in a final, (Tipsy Turvy) did a wonderful job as well getting stuck in the death seat, but all credit to Sangreal.
"I really want to thank my staff, Olivia Weidenbach and Jeremy Quinlan, it's a great team at Caldow stables and I'm just so happy and so proud."
RELIVE THE GROUP 1 WIN:
MORE FROM BREEDERS CROWN FINALS NIGHT:
>> Race 1: Harley holds off Lochinvar Art in epic battle
>> Race 2: Tricks but talent as Darkness lights up
>> Race 3: Lee's flawless drive delivers Jack a Crowning glory
>> Race 4: Majestic result as Snooze cooly sweeps by
>> Race 5: Major Group 1 moment for Damian and Len
>> Race 6: Sweet finish to Sugars' driving dramas
​​​​​​​>> Race 7: Zeuss brings the thunder early and late
>> Race 8: Red letter day for this brilliant lady​​​​​​​
>> Race 9: "Just awesome" as Maree claims thrilling Crown
>> Race 10: Caldow feeds on early speed to win​​​​​​​
>> CEO Dayle Brown joins Rob Auber on Trots Vision​​​​​​​
​​​​​​​