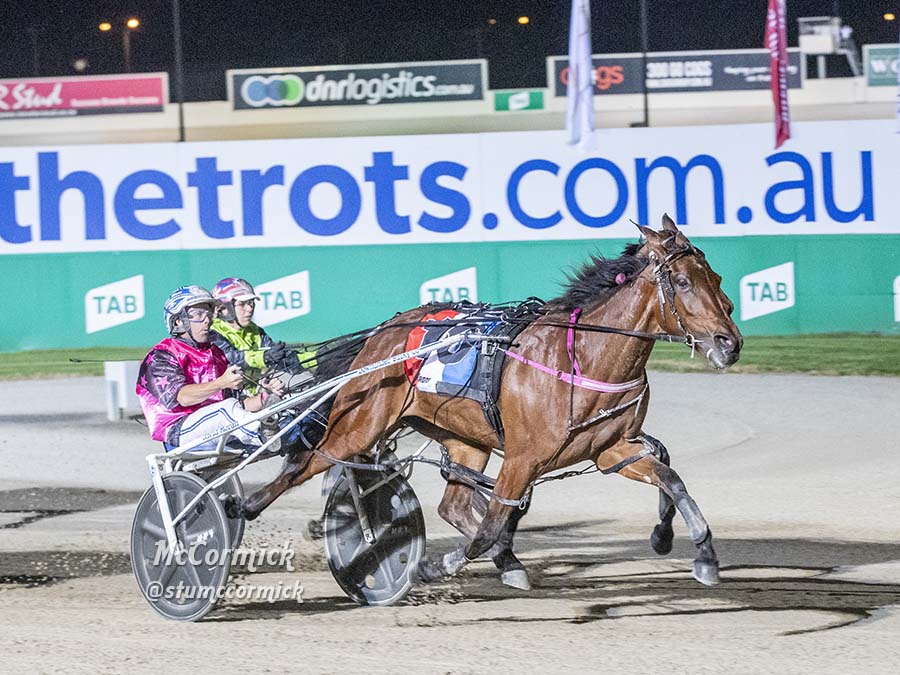 It was billed as the battle of the Breeders Crown finals and so it proved, with Tough Tilly terrific but Ladies In Red reaffirming her status as a superstar in the making in winning the Captain Crunch two-year-old fillies.
The Mach Three filly replicated big full-brother Our Little General's feat of winning a two-year-old Breeders Crown by sitting tough for trainer Emma Stewart and reinsman David Moran and having all the answers, improving her career record to seven wins from as many starts.
"She was really good," Moran told Trots Vision. "I said last week, she's got that x-factor and she's got the speed and will to win and she a terrific little filly."
And she had to be all those things tonight, with Tough Tilly taking advantage of her gate two draw to lead, but sustaining pressure initially as the running line was a procession of changing faces until Ladies In Red strode to the breeze.
"There were a few moves early to mid race which kept the tempo reasonably honest throughout that lead time, then we were able to get around there and dictate the race from (the breeze)," Moran said.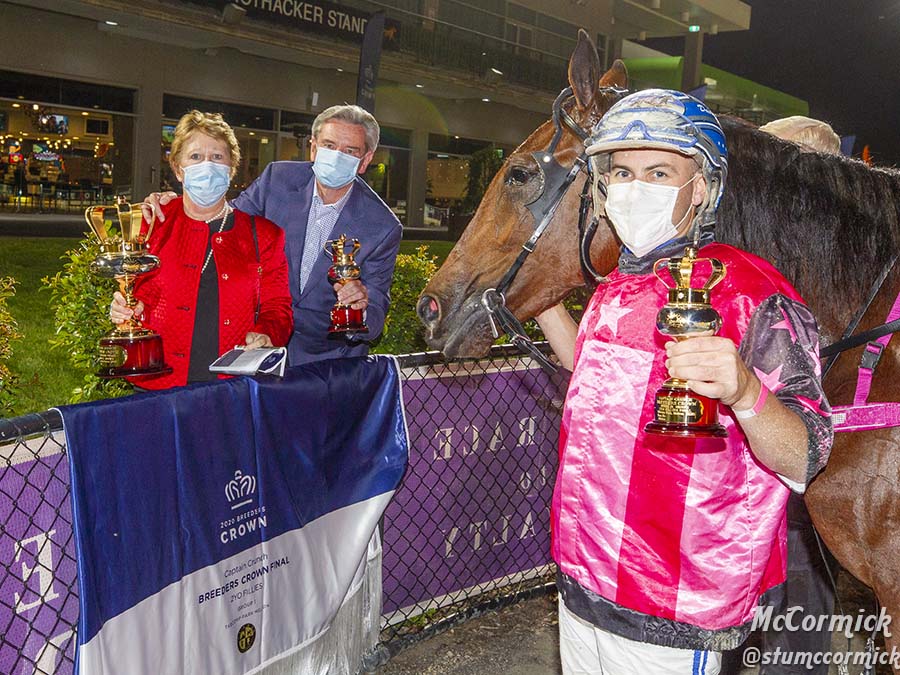 "Thirty-one (seconds for) the second quarter and then twenty-eight-and-a-half (seconds) off the back, we could control it there and then really make it a 500-metre dash where the best horse is going to win.
"I wanted to really eyeball the leader and just be head-to-head right with it so Kate wasn't able to make it mathematically impossible for us to beat her, it worked out really well."
Ladies In Red clawed past Tough Tilly in the final 100 metres to win by 2.4 metres with Jo Rocks running third and Stewart training four of the first five finishers as Rogue Wave and Joanna also finished strongly.
But all honours went to the winner, including owner-breeders Bill and Anne Anderson of Lauriston Bloodstock.
"(Ladies In Red) just kept giving, that's what makes her such a great racehorse, she just does whatever she needs to do."
RELIVE THE GROUP 1:

MORE FROM BREEDERS CROWN FINALS NIGHT:
>> Race 1: Harley holds off Lochinvar Art in epic battle
>> Race 2: Tricks but talent as Darkness lights up
>> Race 3: Lee's flawless drive delivers Jack a Crowning glory
>> Race 4: Majestic result as Snooze cooly sweeps by
>> Race 5: Major Group 1 moment for Damian and Len
>> Race 6: Sweet finish to Sugars' driving dramas
>> Race 7: Zeuss brings the thunder early and late
>> Race 8: Red letter day for this brilliant lady​​​​​​​
>> Race 9: "Just awesome" as Maree claims thrilling Crown
>> Race 10: Caldow feeds on early speed to win​​​​​​​
>> CEO Dayle Brown joins Rob Auber on Trots Vision​​​​​​​