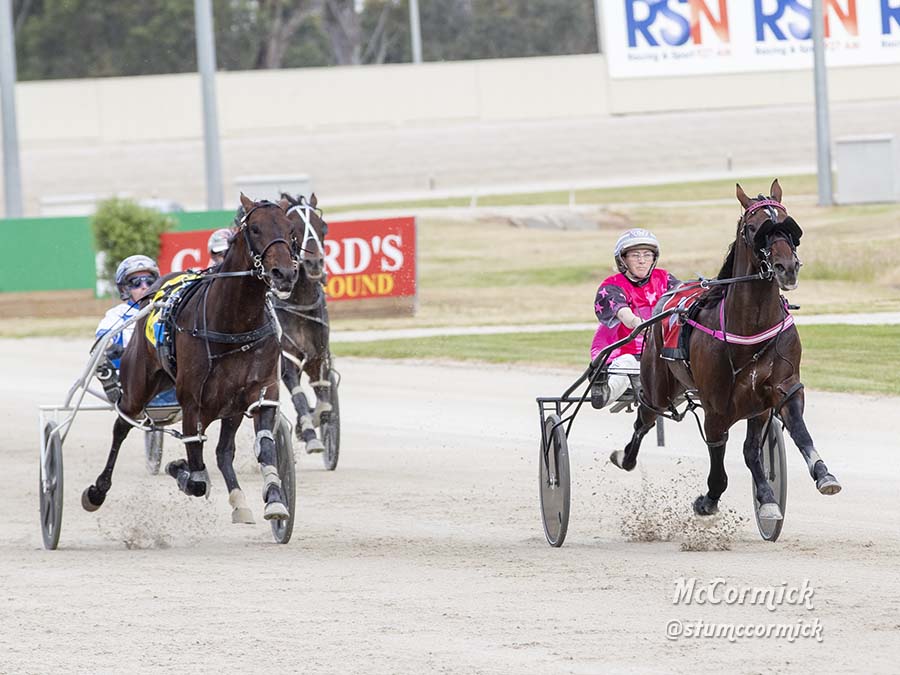 TAB Breeders Crown night kicked off in stunning fashion with Hurricane Harley and Lochinvar Art enjoying a classic head-to-head battle, with the former holding the champ at bay and matching his Victoria Cup winning time.
Trained by Emma Stewart and driven by Amanda Turnbull for owner-breeders Lauriston Bloodstock, Hurricane Harley further enhanced his reputation with an outstanding front-running display to secure the Group 2 for four-year-old entires and geldings.
"He's amazing isn't he, he just loves being in front and he's hard to catch," Turnbull told Trots Vision after guiding Hurricane Harley to the front, with Lochinvar Art advancing to the breeze from the back row amid a 44.1-second lead time.
The pair then traded blows for the final mile, with quarters of 28.2, 27.4, 27.4 and 27.9 seconds, with Lochinvar Art constantly pressing in the breeze but Hurricane Harley having all the answers.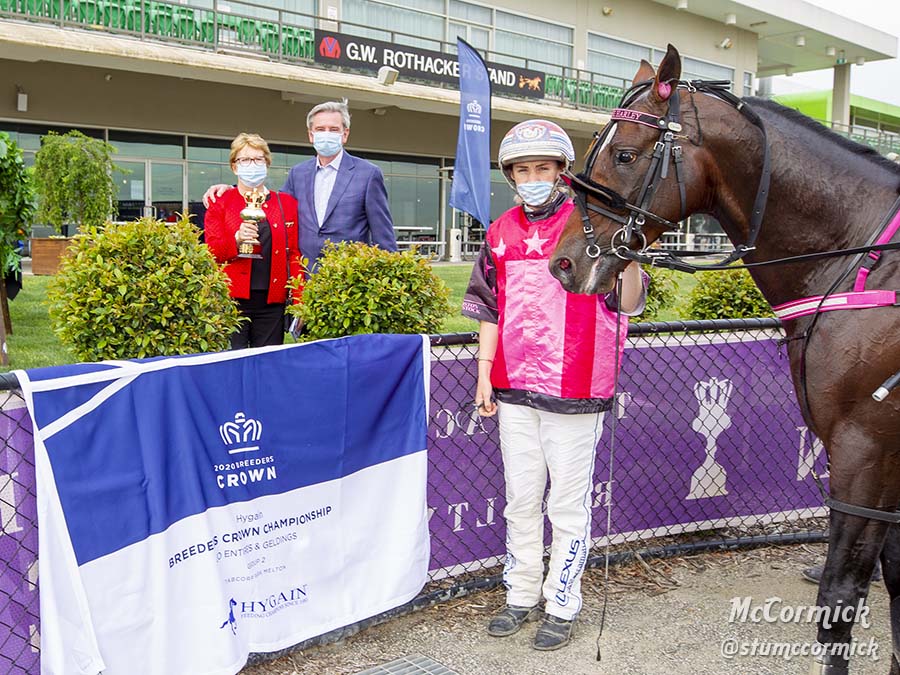 "He's just an unreal horse and once he's comfortable and he's happy out there he just doesn't stop, he just loves it," Turnbull said.
"He's an unreal horse Harley, you don't feel like you're going that fast but the lead time just felt like it was that slow and he had it that easy.
"(Lochinvar Art) just wouldn't go away. That's just how he goes, he's a beautiful goer. I just couldn't shake him, I knew I was running but I couldn't get rid of him. All credit to him, he stuck there and it was a great race."
RELIVE THE GREAT BREEDERS CROWN BATTLE:
MORE FROM BREEDERS CROWN FINALS NIGHT:
>> Race 1: Harley holds off Lochinvar Art in epic battle
>> Race 2: Tricks but talent as Darkness lights up
>> Race 3: Lee's flawless drive delivers Jack a Crowning glory
>> Race 4: Majestic result as Snooze cooly sweeps by​​​​​​​
>> Race 5: Major Group 1 moment for Damian and Len
>> Race 6: Sweet finish to Sugars' driving dramas
​​​​​​​​​​​​​​>> Race 7: Zeuss brings the thunder early and late
>> Race 8: Red letter day for this brilliant lady​​​​​​​
>> Race 9: "Just awesome" as Maree claims thrilling Crown
>> Race 10: Caldow feeds on early speed to win​​​​​​​
>> CEO Dayle Brown joins Rob Auber on Trots Vision​​​​​​​